KFC M'sia Releases New Zesty Crunch With Chimichurri Sauce Starting Today
TL;DR
KFC Malaysia releases new Zesty Crunch at all outlets nationwide.
The brand new KFC Zesty Crunch comes with KFC's signature Hot & Spicy that's coated with tangy Chimichurri Sauce.
Served in special combo options; 2-pcs Combo, 3-pcs and the value-for-money Box Meal.
Hello foodies! We're back once again with a new release by our favourite fried chicken joint, KFC. This time around, they're releasing a flavourful Zesty Crunch that also offers a wonderful way for you to mix up your buka puasa meals after long hours of fasting. Keep reading as we tell you more about this new menu, it's guaranteed to leave you licking your fingers.
New KFC Zesty Crunch With Chimichurri Sauce
Fried chicken, what's not to love about them? Juicy, crispy coating surely comes to mind when someone mentions fried chicken. With fried chicken a part and parcel of our lives these days, we're always looking for new and different ways to enjoy our fried chicken. Well, if you are indeed looking for something special, then KFC has it. The brand new KFC Zesty Crunch comes with KFC's signature Hot & Spicy that's coated with tangy Chimichurri Sauce flavours.
So what you'll get is all at once citrusy, tangy, garlicky, herby, and a tad bit spicy, as well as a deep-fried crunch that completes the overall experience. Additionally, it's known as one of the most delicious and versatile sauces popular throughout South America made from freshly chopped lime, cilantro, parsley, and garlic.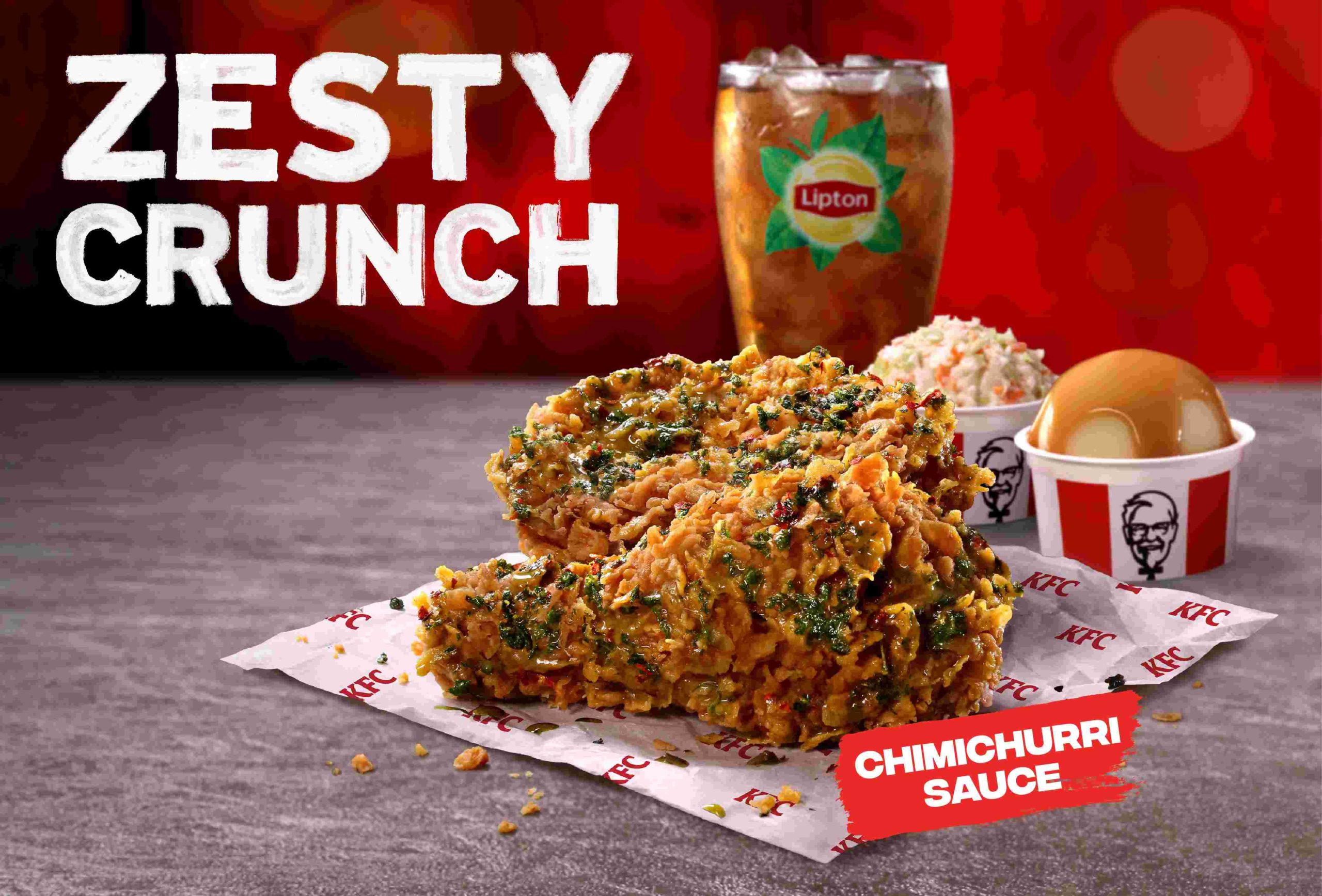 Available in either a 2-pcs combo or a 3-pcs combo, eat set comes with coleslaw, whipped potato, and Lipton Ice Tea from only RM15.99. You can also get the Box Meal that has a Zinger Burger and Fries alongside a piece of KFC Zesty Crunch Chicken.
Available Nationwide
In case you're already super excited to try it out, this new menu will be available at all KFC outlets nationwide from today onwards. This zestfully scrumptious dish will still be around on Hari Raya for all to indulge in the company of your loved ones. Well, you know the deal. Bye!
Read More: JBF Tavern: This New Stall In JB Serves Gourmet Duck & Olive Burger And Tandoori Chicken Burger
—
We would like to invite you to join our New Private Community Group! Here you are free to ask questions, share your love for food, and explore the Johor community! We will also regularly post about casual promos and the latest findings.
Click on the button below and hunt good food with us today!