BookFest @ Malaysia Is Happening At 47 POPULAR/HARRIS Bookstores With Discounts Up To 85% & More!
Two things one shouldn't turn a blind eye to – food and of course, good deals! We know you and that's why we can't let you miss out on the super awesome BookFest @ Malaysia organised by the POPULAR bookstore! Now, it doesn't matter if you are a bookworm or not, you just got to make time for this. Happening at 47 POPULAR/HARRIS bookstore in West Malaysia from 10th – 19th December 2021, there'll be a lot of things taking place every day so you better be on your toes when we get into details! Ready?
All Things You Can Anticipate At BookFest @ Malaysia: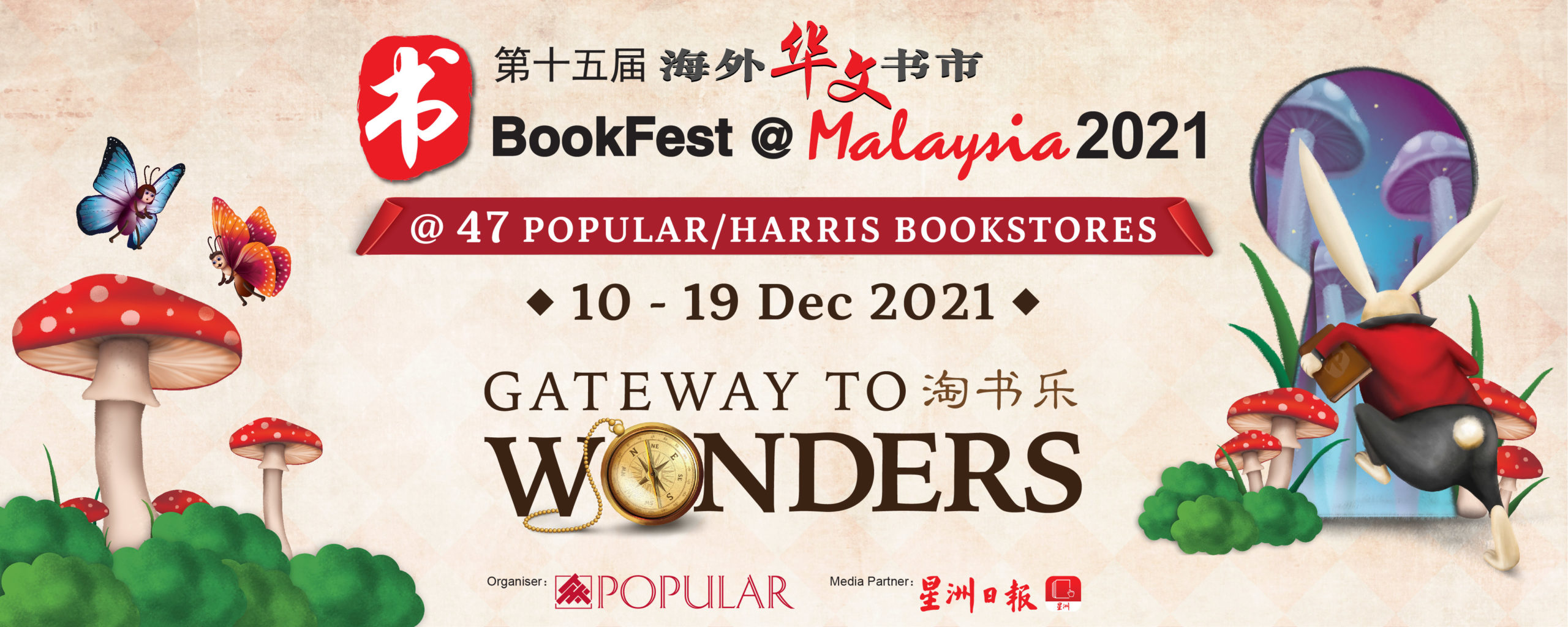 Have you ever wondered how exhilarating it would be to experience something unimaginable yet extraordinary? Just like Alice's Adventure in Wonderland – meeting the Queen of Hearts, Mad Hatter, Tweedledee & Tweedledum, Cheshire Cat, Caterpillar and Dodo! Like Alice, BookFest @ Malaysia will now be your Gateway to Wonders to a wonderland of incredible deals that awaits your arrival! 
1. STAR BUYS Up To 70% OFF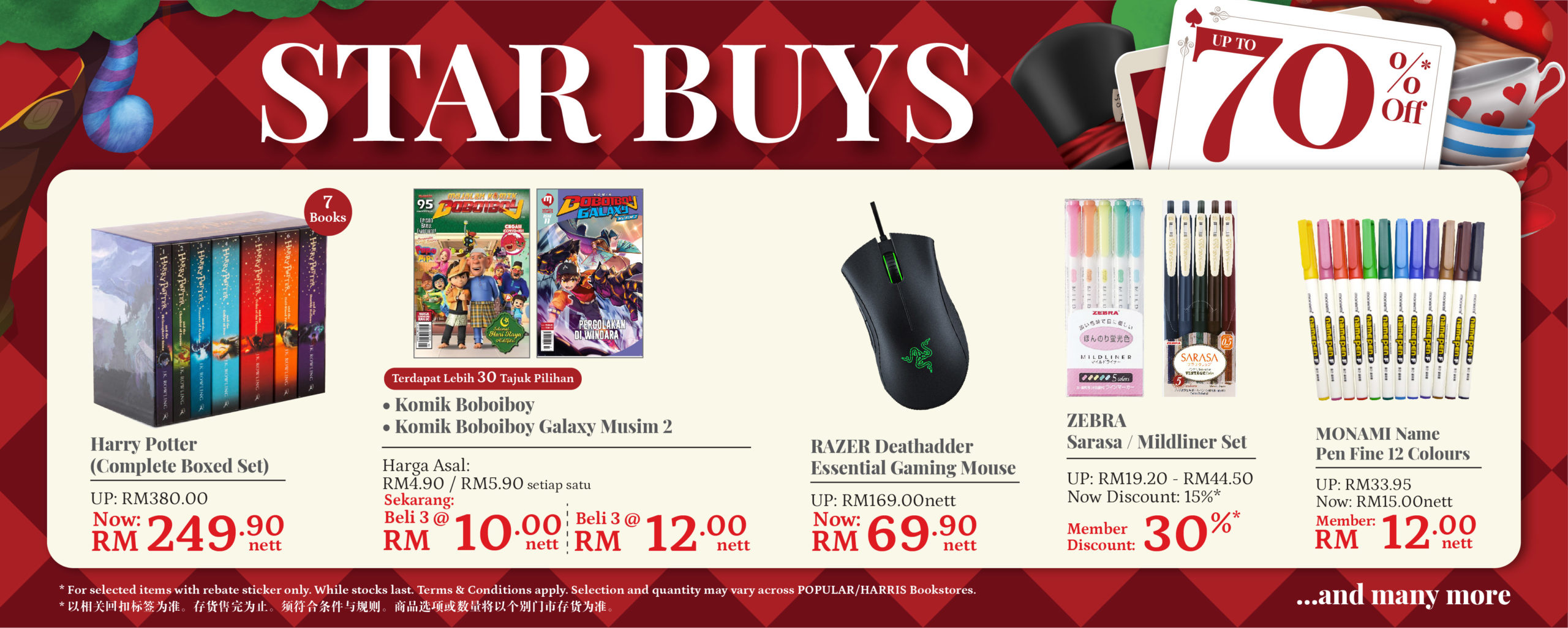 Be it fiction, lifestyle, or non-fiction books, get them all at up to 70% OFF! Even better, cool gadgets and essential items are added to the list too. 
2. RM10 Treats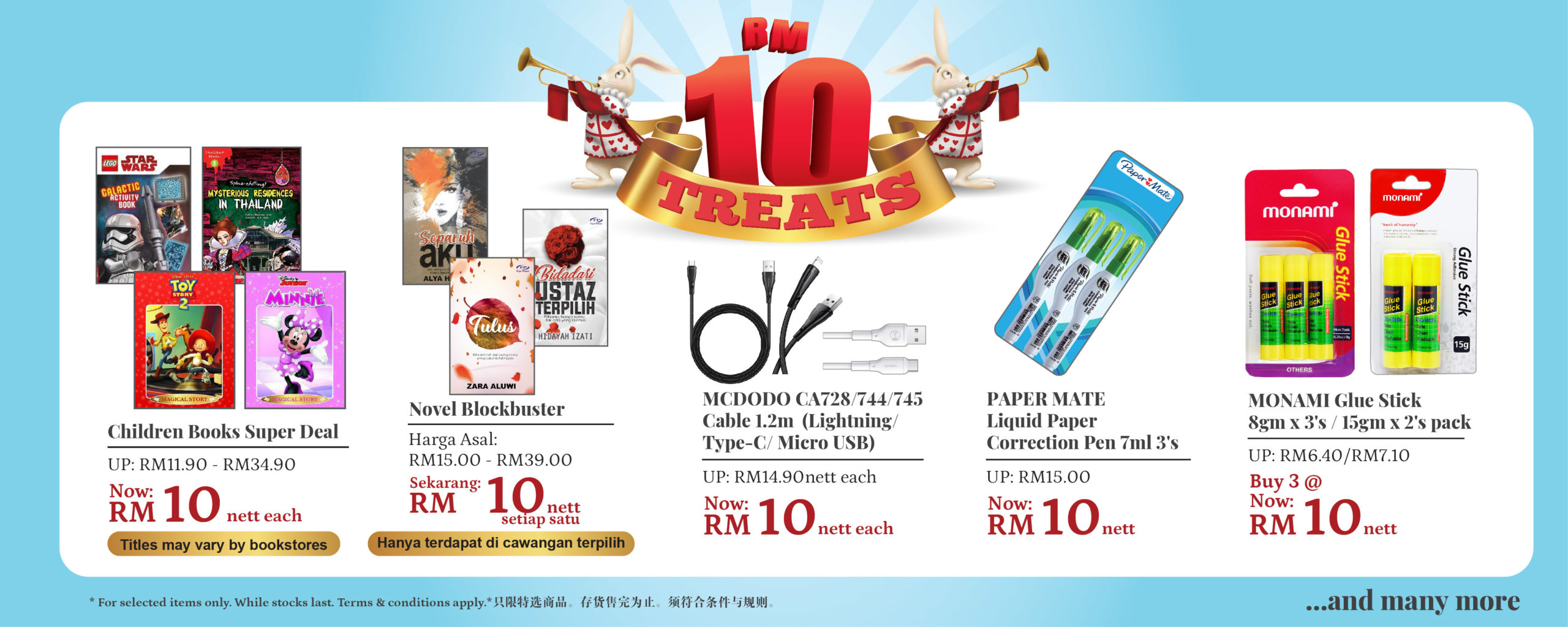 Don't miss out on the RM10 treats where you can find over 600 books, gadgets and a variety of stationeries priced at only RM10 each! How amazing is that?
3. Daily Specials Up To 85% OFF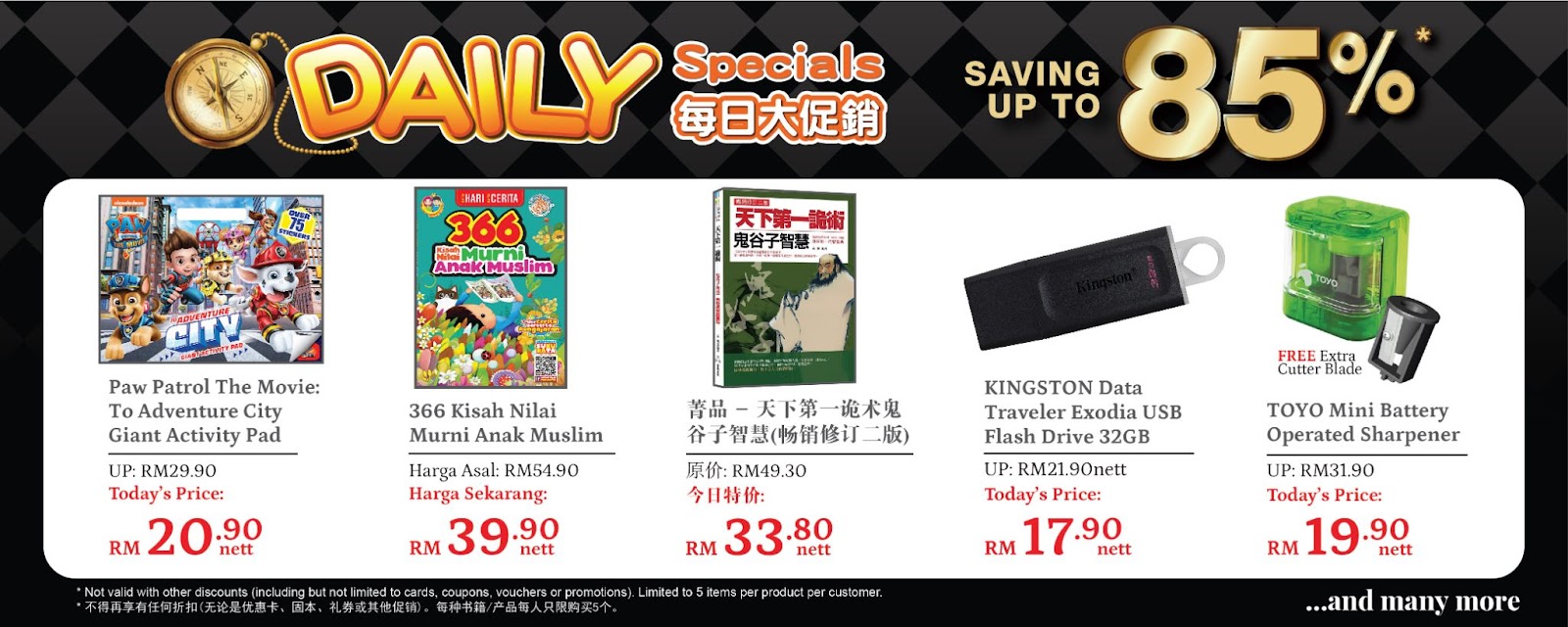 Yes, you read that right. Find over 200 Daily Specials items ranging from English, Malay and Chinese books, latest gizmos and stationery – all discounted up to 85%! 
4. WOW! Grab Now at BookFest!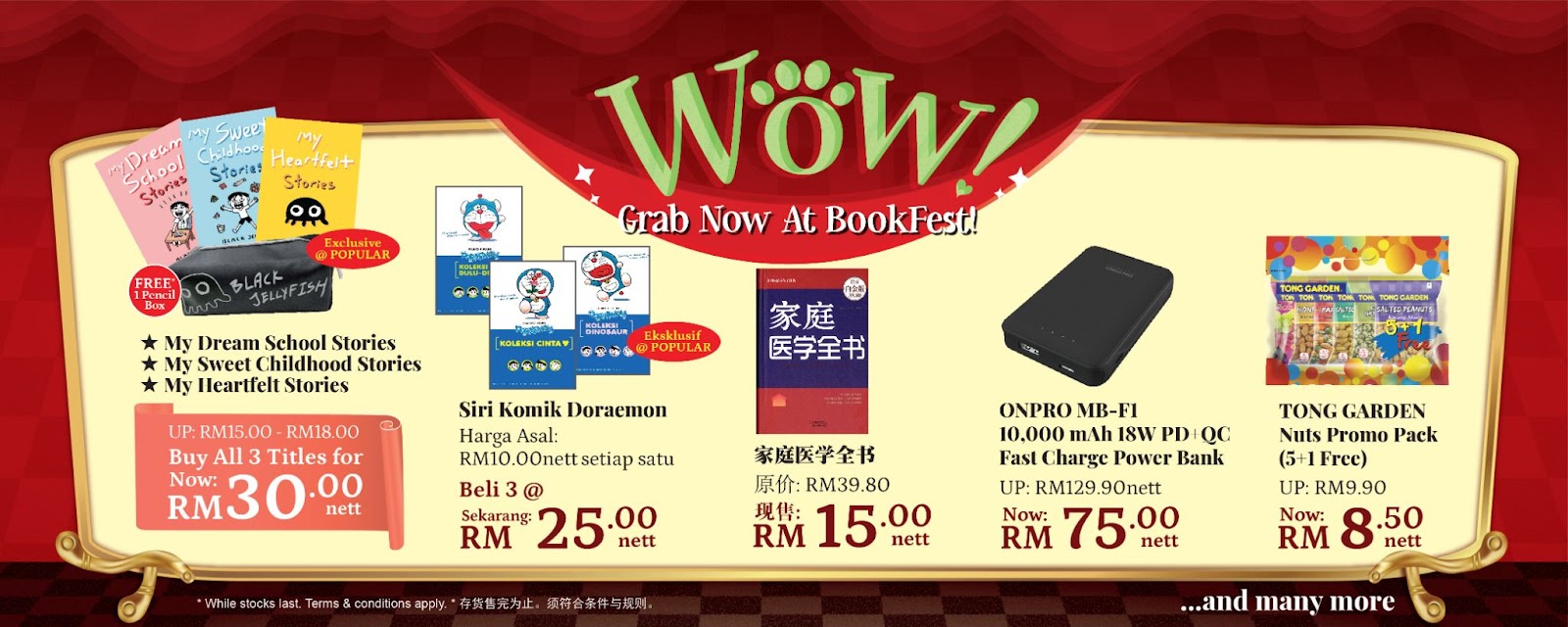 Also, check out the 16 items that are specially selected for you and offered at a desirable price as low as RM8.50 onwards.
5. PWP Deals


Even better, grab these specially selected items at an amazing price when you spend up to RM60! Items include a 64GB Sandisk USB3.0 Flash Drive and a 1L ZEBRA Stainless Food Storage!
6. Shop & Be Rewarded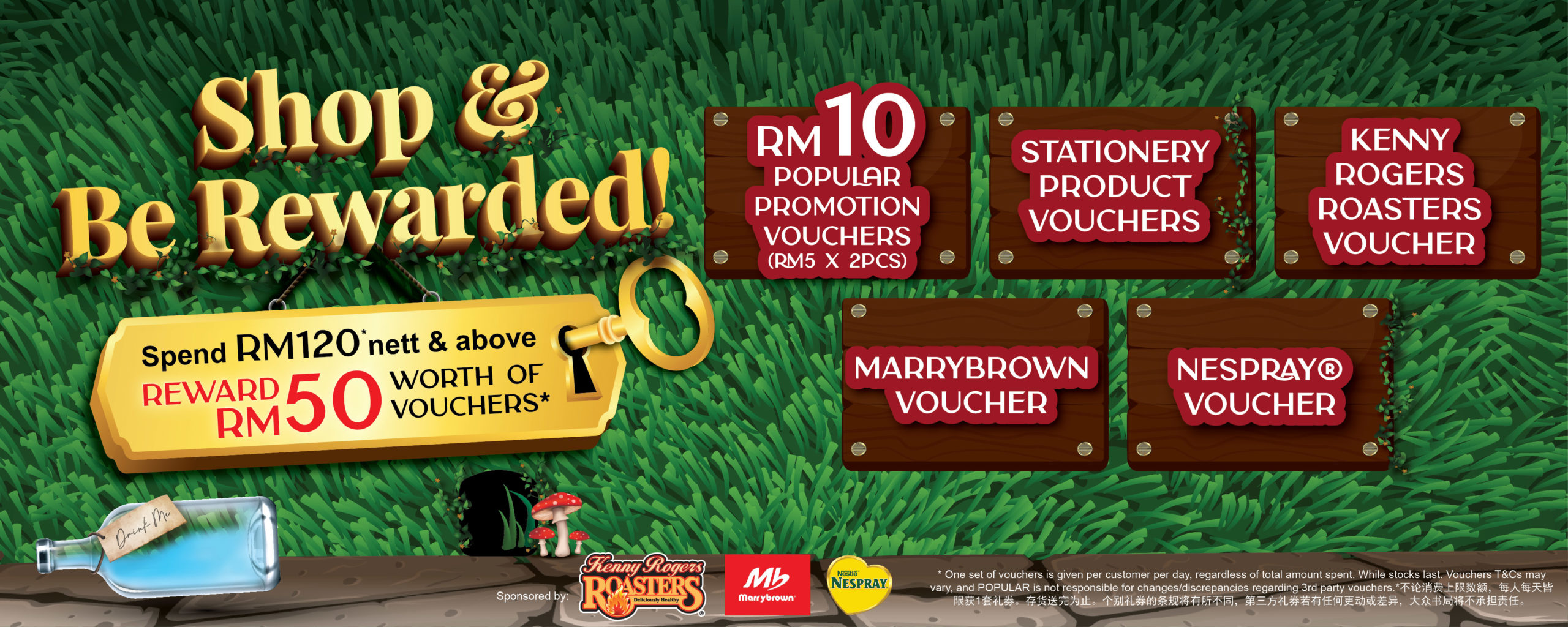 Now, POPULAR won't just let you walk out without more rewards, right? Collect vouchers worth more than RM50 when you spend RM120nett & above. Vouchers comprised RM10 POPULAR Promotion Vouchers , Stationery Product Vouchers, KENNY ROGERS ROASTERS Voucher, MARRYBROWN Voucher and NESPRAY® Voucher.
7. EXTRA RM5* POPULAR Gift Voucher
Hold up! Of course, we still have more! Public Bank cardmembers, more rewards for you. Grab an additional RM5 POPULAR Gift voucher too when you spend a minimum amount of RM150nett on a single receipt using the Public Bank Credit or Debit card. 
8. LIVE Sharing Session with Well-Known Personalities
Writers and filmmakers, you wouldn't want to miss this part of the event. It's not every day we get to be inspired and ask questions directly to the experienced ones. But, now is your chance because POPULAR is bringing you the famous Taiwanese novelist and filmmaker, Giddens Ko for an ONLINE Meet & Greet session!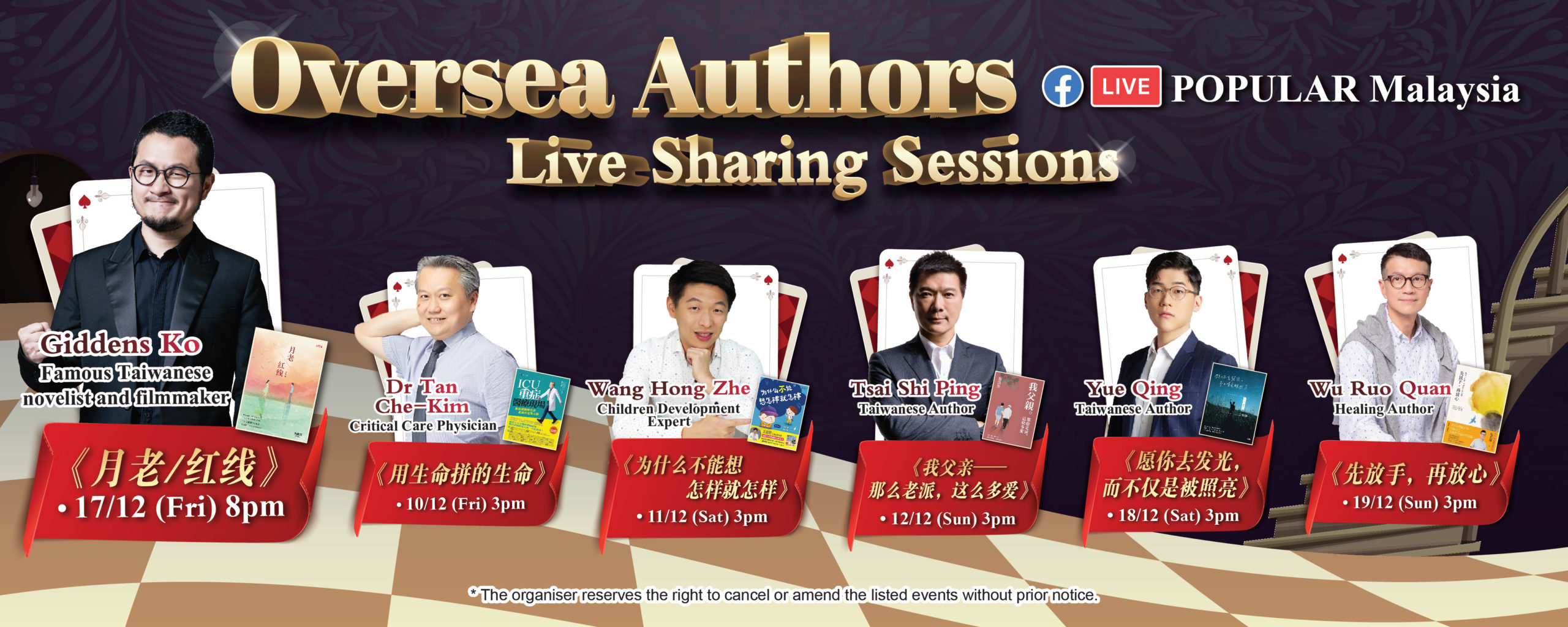 So if you are interested, be sure to register online HERE. Also, take note that it's happening for ONE day only on 17th December 2021 at 8pm at selected venues only:
POPULAR Flagship Store @ IPC Shopping Centre, Selangor

POPULAR @ AEON Mall Kinta City, Ipoh 

POPULAR @ Gurney Plaza, Penang

POPULAR @ Mid Valley Southkey, Johor
That's not all folks! You can watch LIVE sharing sessions in the comfort of your home too. There'll be many international authors like Dr Tan Chee-Kim, Wang Hong Zhee, Tsai Shi Ping and more to share on their respective field, knowledge and experience LIVE on POPULAR Malaysia Facebook.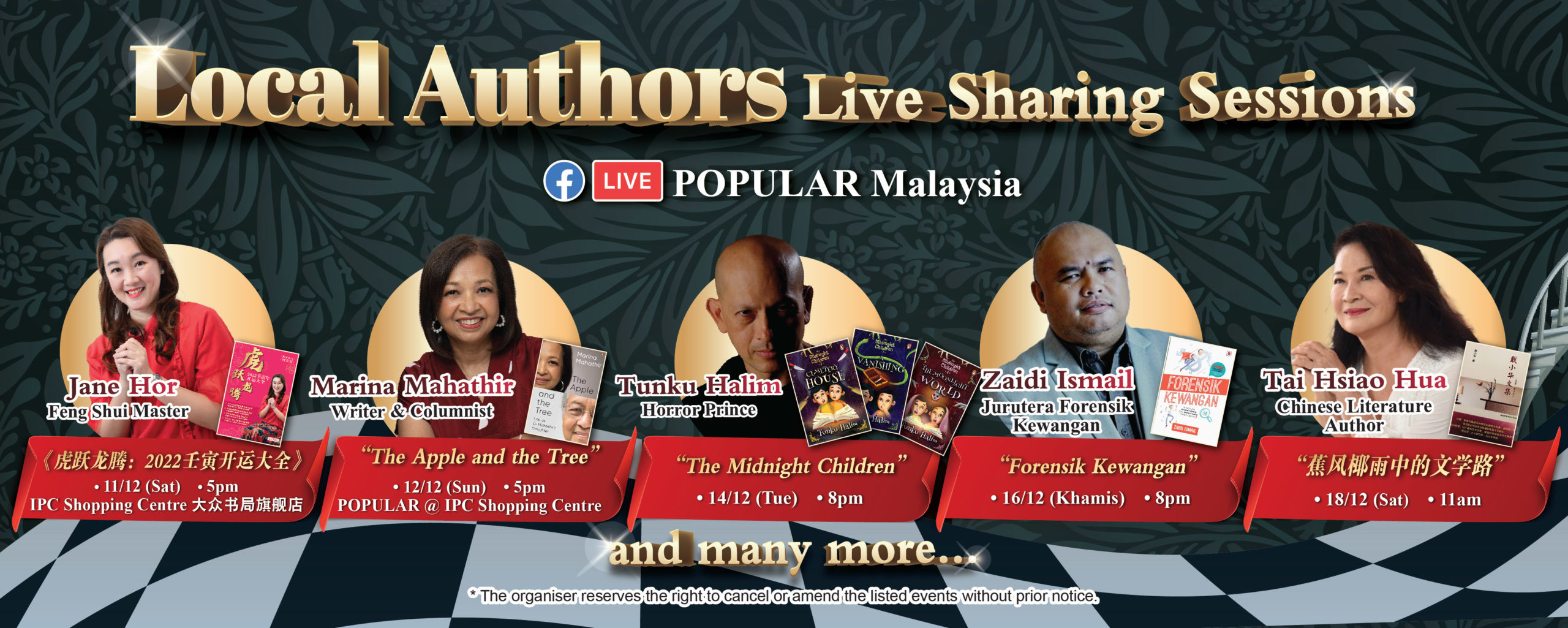 Not forgetting our local authors! Be enriched by the numerous anecdotes of wisdom, experience and imagination that can only come from seasoned authors like the Horror Prince of The Midnight Children Tunku Halim, financial advisor Zaidi Ismail, teen novelist Lin Ley Na and more!
Prefer an OFFLINE sharing session? Head over to POPULAR Flagship Store @ IPC Shopping Centre where Marina Mahathir will be sharing her latest book, Jane Hor revealing zodiac forecast, and the dive into the world of mystery and thriller with the famous screenwriter Coffee Tree.
9. Cook with POPULAR Chefs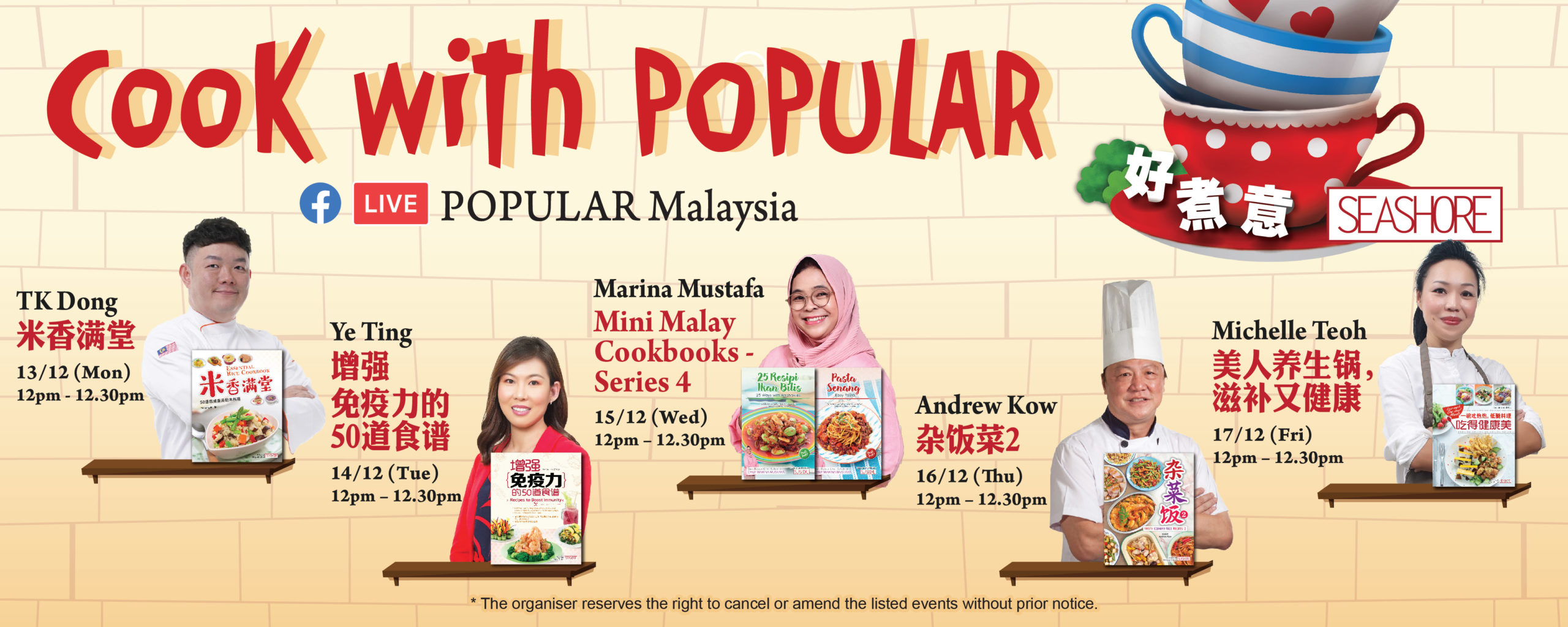 Cooking? Yes, cooking too! Foodies, the time has come for us to experience Hookchew traditional culinary, educate ourselves on balanced nutrition, learn new mouth-watering recipes and more at this exclusive event! POPULAR exclusive chefs will be sharing their expertise through the POPULAR Malaysia Facebook page so be sure to tune in!
10. Crazy Pop Bargain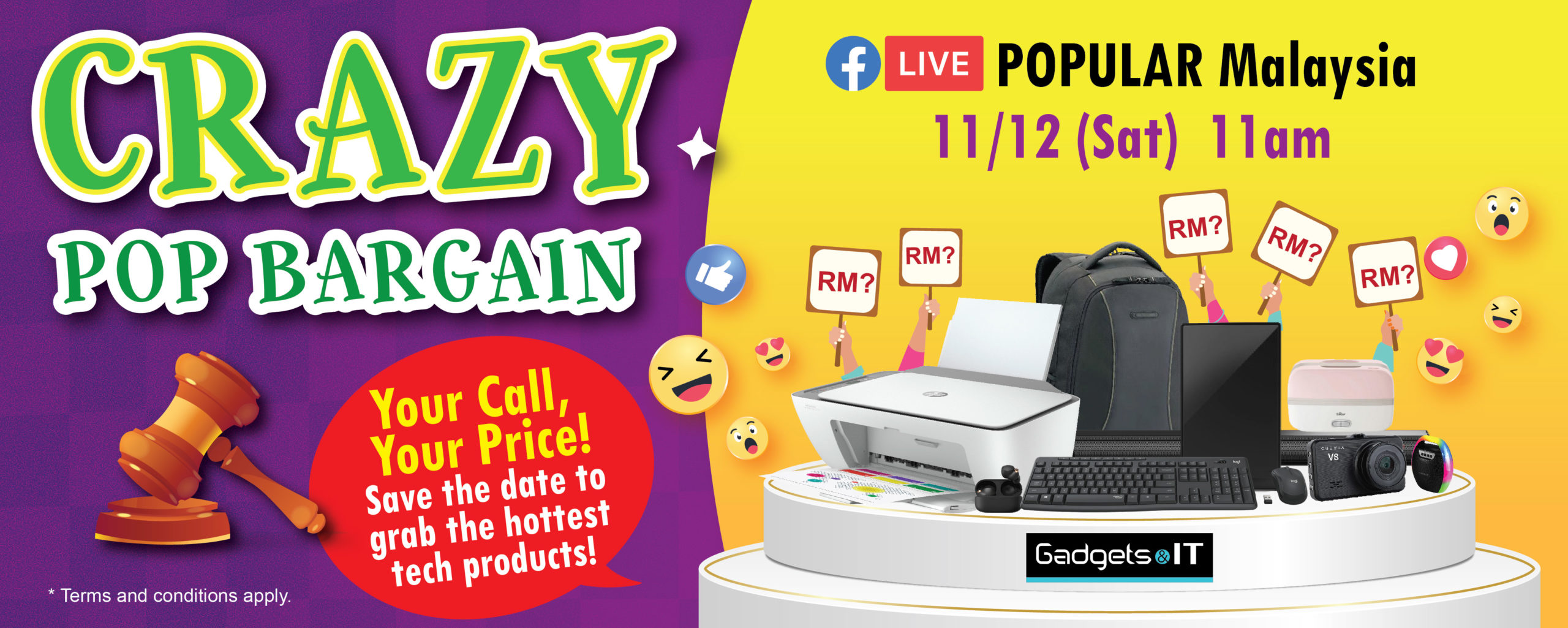 Eyeing on a certain tech product but your bank account says no-no? Now is your chance because they are having huge discounts on the hottest tech products! Want to know more? Don't miss out on their LIVE on POPULAR Malaysia Facebook to get a hold of your favourite gadgets!
11. Fun DIY Activities!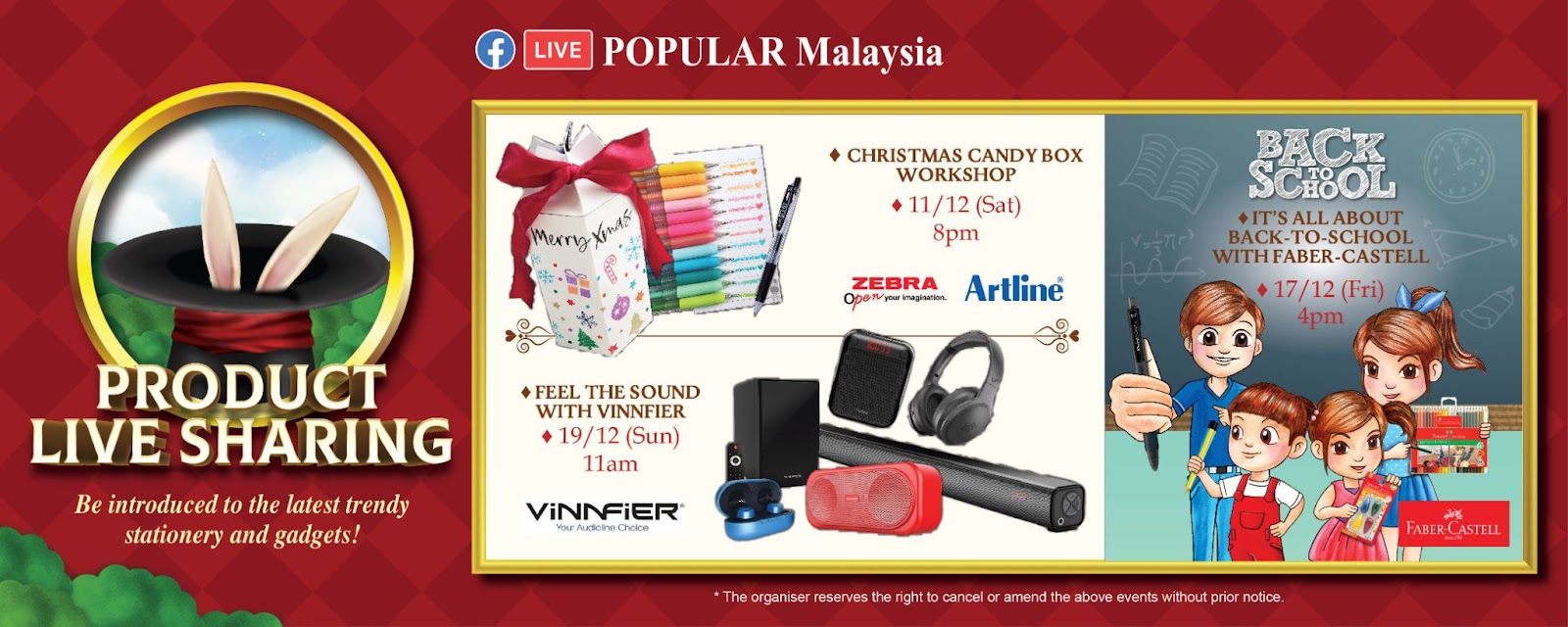 Family and friends, you don't go far to spend some quality time together because this LIVE will be packed with many fun activities! Let's get artistic while decorating Christmas candy boxes with ZEBRA or dive into the world of creativity with Faber Castell's DIY Workshop. Ah, and one more thing! Nothing is better than having a cool sound system for your home theatre or that loud bass sound when you workout. Vinnfier is ready to share their coolest tech with you too!
Become A Member!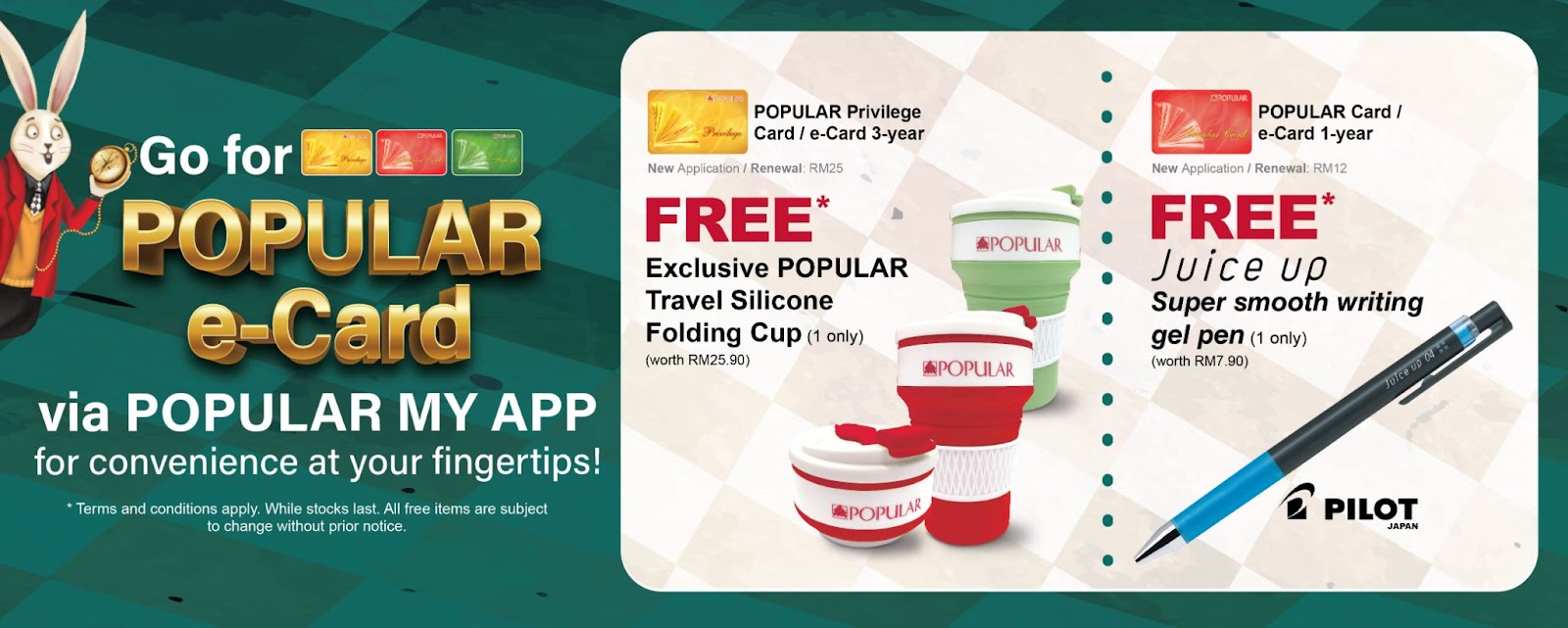 Join the family and enjoy more exclusive offers and freebies! Sign up or renew the POPULAR Privilege Card for a 3-year plan and get an exclusive POPULAR Travel Silicone Folding Cup. Not ready to commit for such a long period? Fret not, get your POPULAR Card for a 1-year plan and collect your Pilot Juice Up Super smooth writing gel pen as a freebie!
You Won't Be Missing Anything, Even When You're At Home!
When we say POPULAR has everything ready for everyone, we mean it. If you prefer to browse the same and more items on discounts from home, just flip through their E-Leaflet HERE before heading to the nearest POPULAR Bookstore. All online sharing session schedules will be in there too! Believe us when we say 9 days is such a short time for such an incredible festival. So, make sure to mark your calendar and set the alarms because if you snooze, you lose.
Date: 10th – 19th December 2021 (Friday – Sunday)
Link(s): Website | Facebook | Instagram
Also Read: This New Minimalist Café In PJ Is Giving Away 1000 FREE Cups Of Premium Arabica Coffee This December Only
–
Now Playing, Catch New Episodes Every Friday At 7PM
New Shopee Deals: https://shp.ee/mwksseq
Lazada Everyday Low Price https://lzd.la/page
–
We would like to invite you to join our New Telegram Group! We will regularly post about good food, casual promos, giveaways, and interesting findings in Malaysia.