8 Beautiful Airbnb Homes In Johor That Are Perfect For Weekend Getaways
Hello, friends! Sometimes, spending the day with your loved ones isn't enough. You will need the entire weekend getaway. Spending the night talking, playing card games and board games sounds like a wonderful time. Looking for a spot? We have got you covered. Here are the 8 Beautiful Airbnb Homes In Johor That Are Perfect For Weekend Getaways.
Weekend getaways are just one click away
1. This listing has an open concept!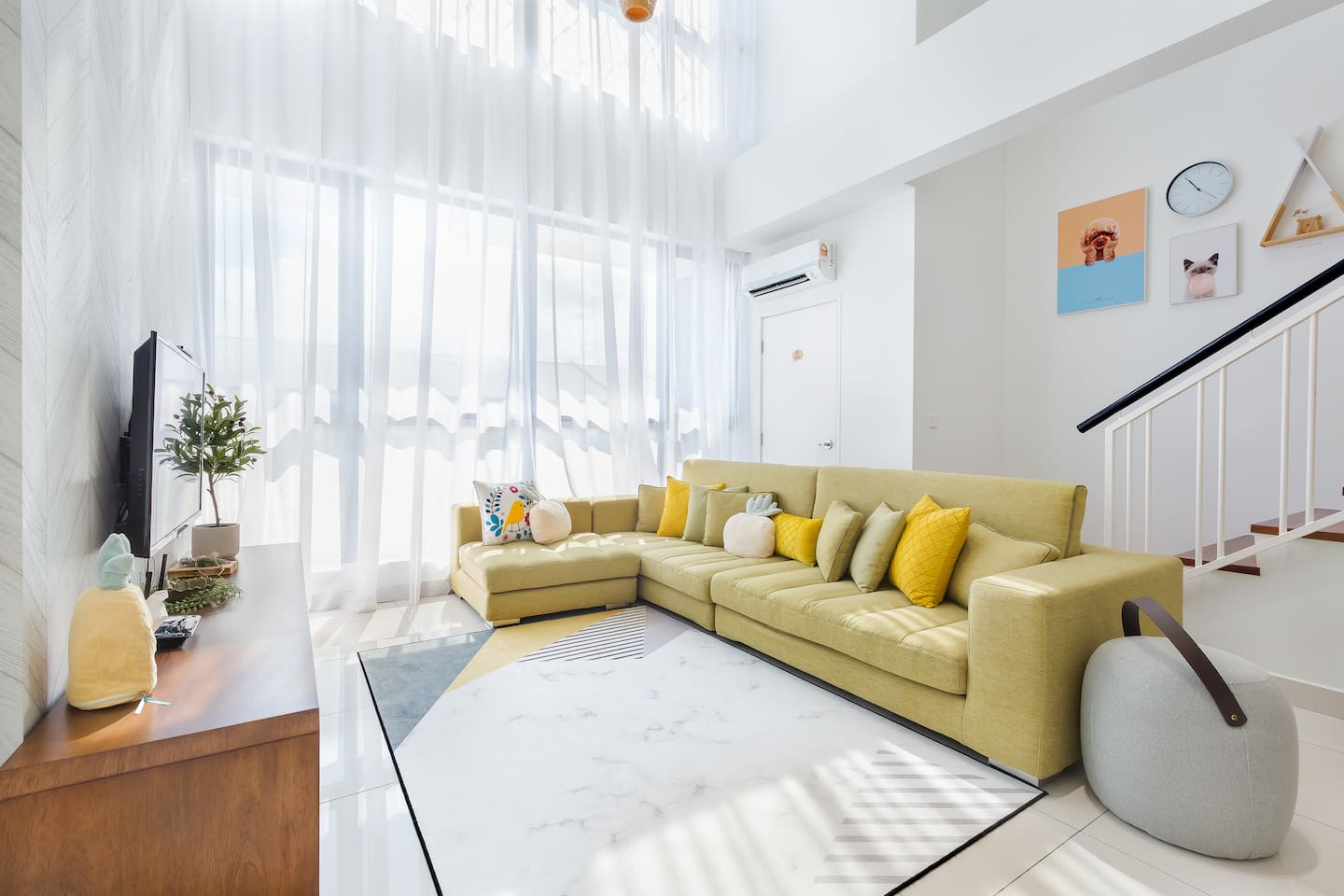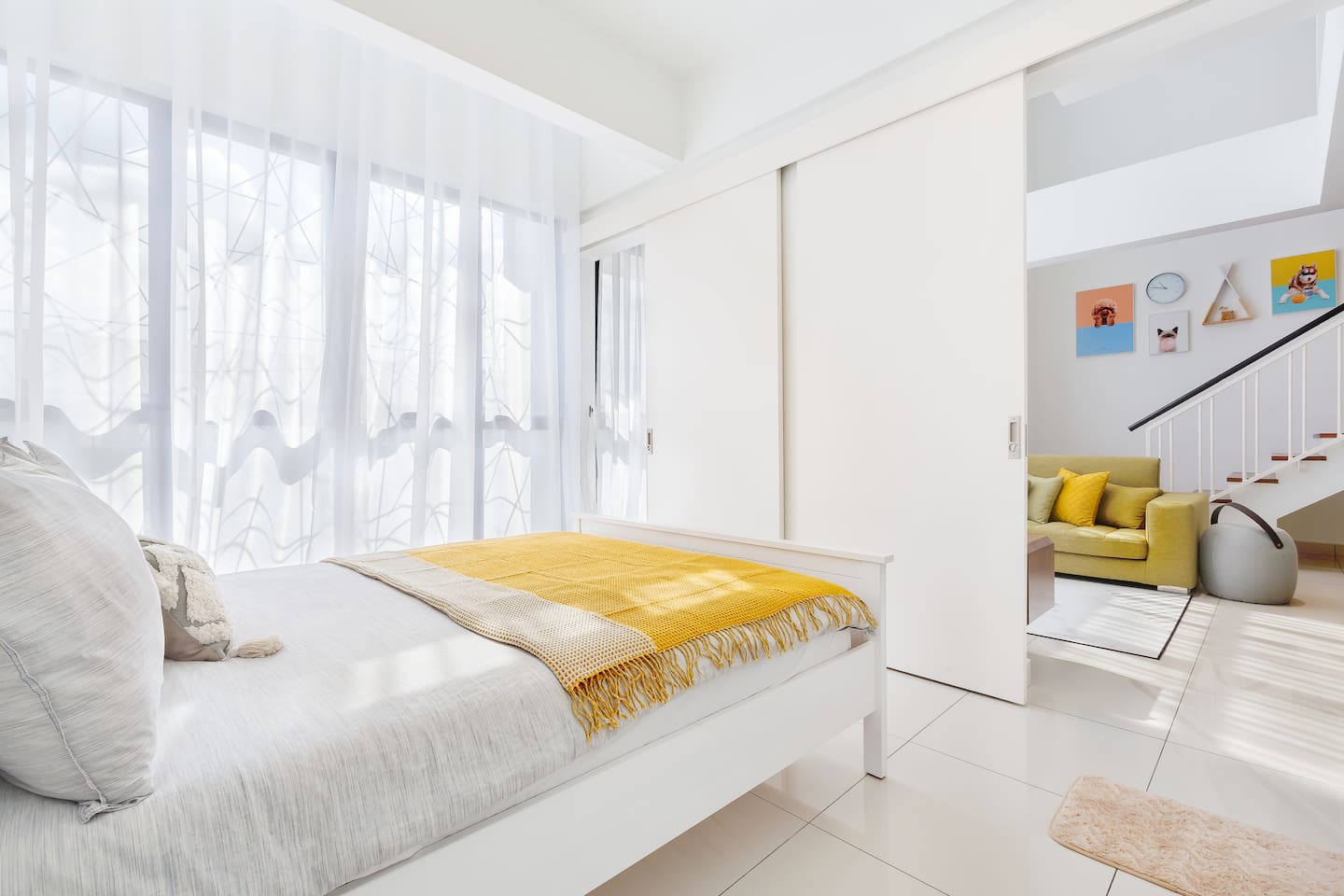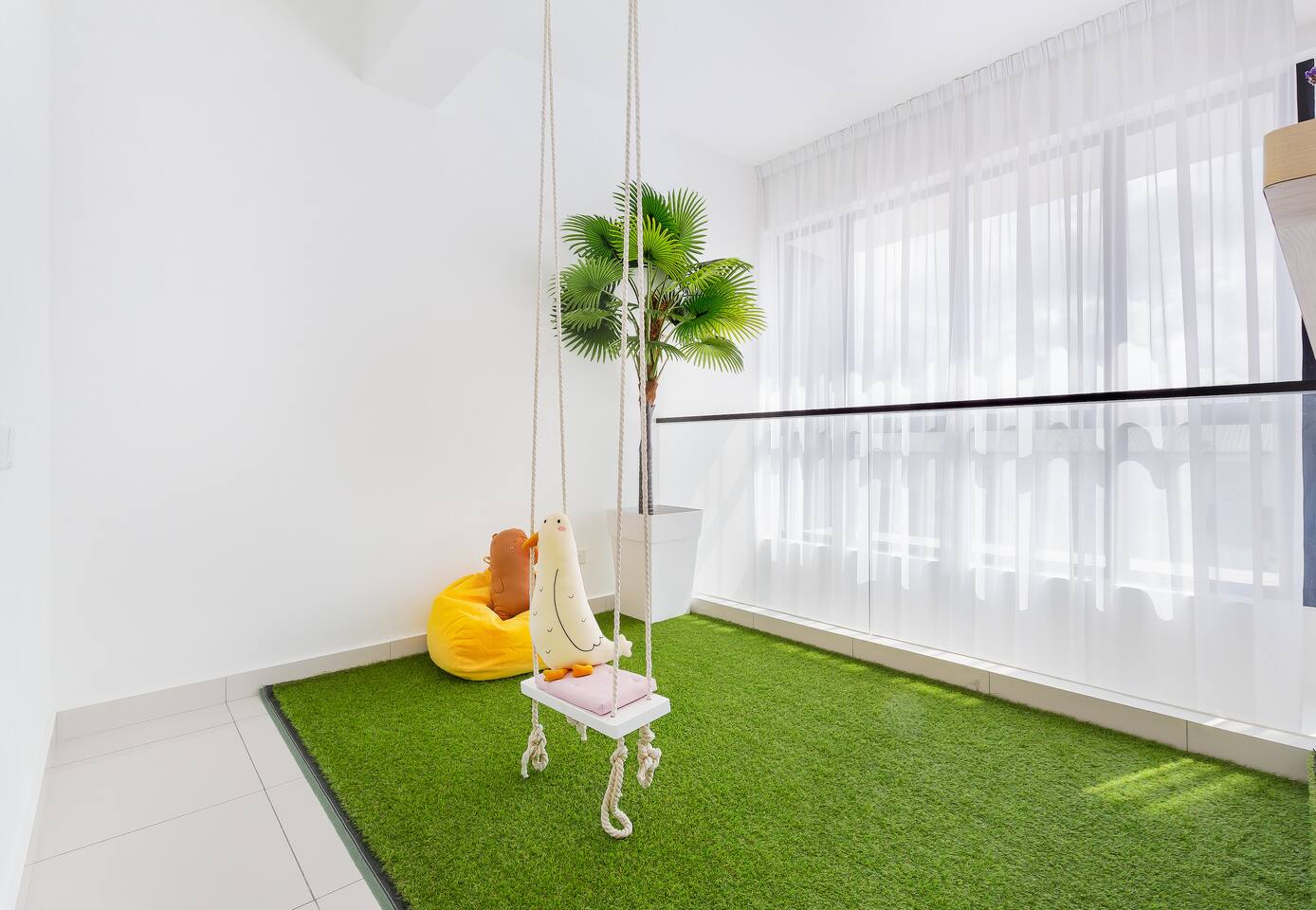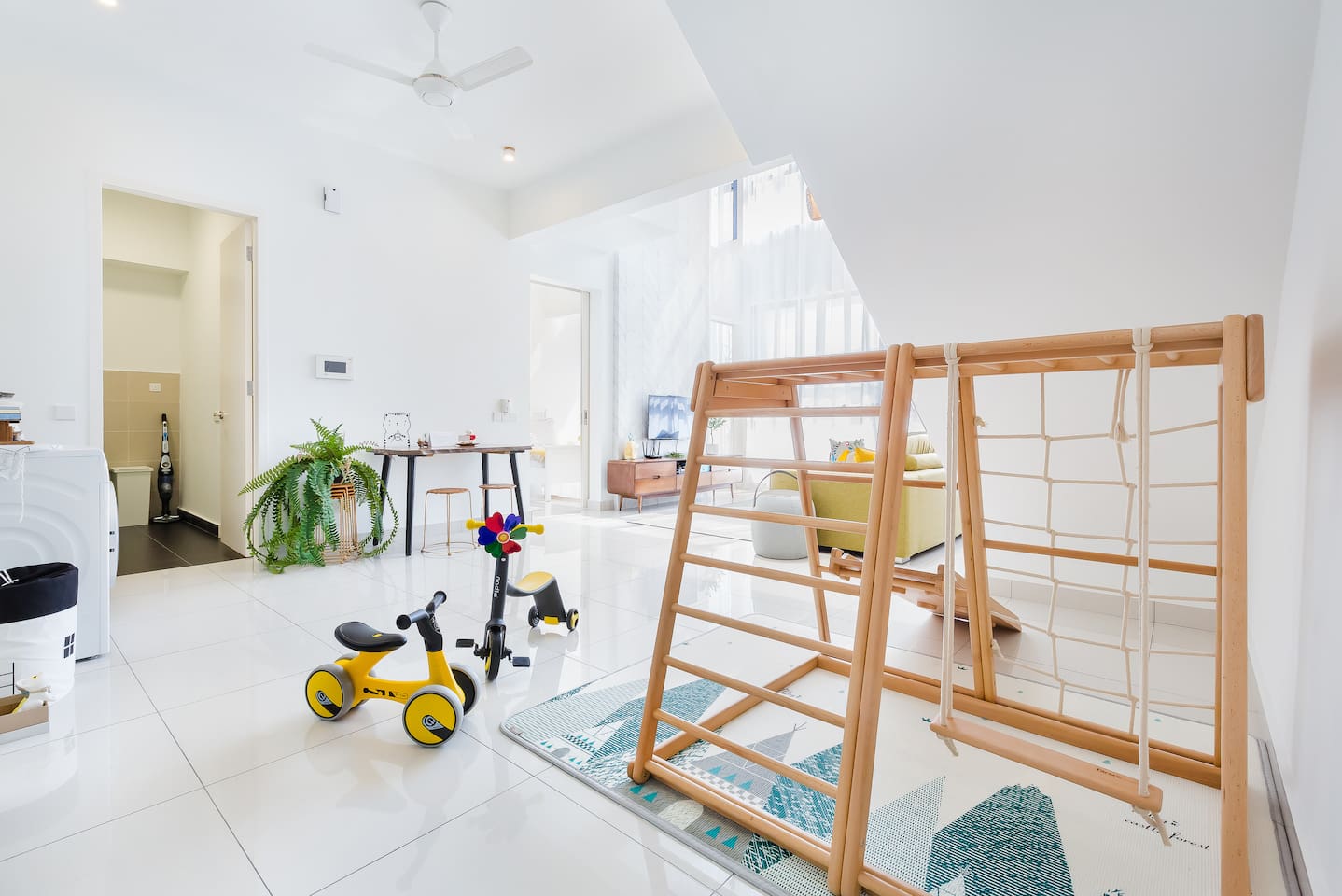 We are kickstarting the list with something perfect for the whole family. Kids, especially. Look at the mini in-house playground that comes with a swing. If one swing isn't enough, there's another one located on the second floor. This beautiful duplex features a huge sofa and six beds that can accommodate seven people in total. Apart from the playground, you can head down to Legoland that is just a few minutes away!
Here's a review: "Beautifully kept and a homely apartment just 8 minutes from Legoland and Bukit Indah. Situated in a nice and quiet neighbourhood with minimart and eateries within walking distance. Totally value for money and a great experience. Hope to be back again soon!" – Nathanael, 2019. 
Check out the listing here.
2. This listing has an open concept!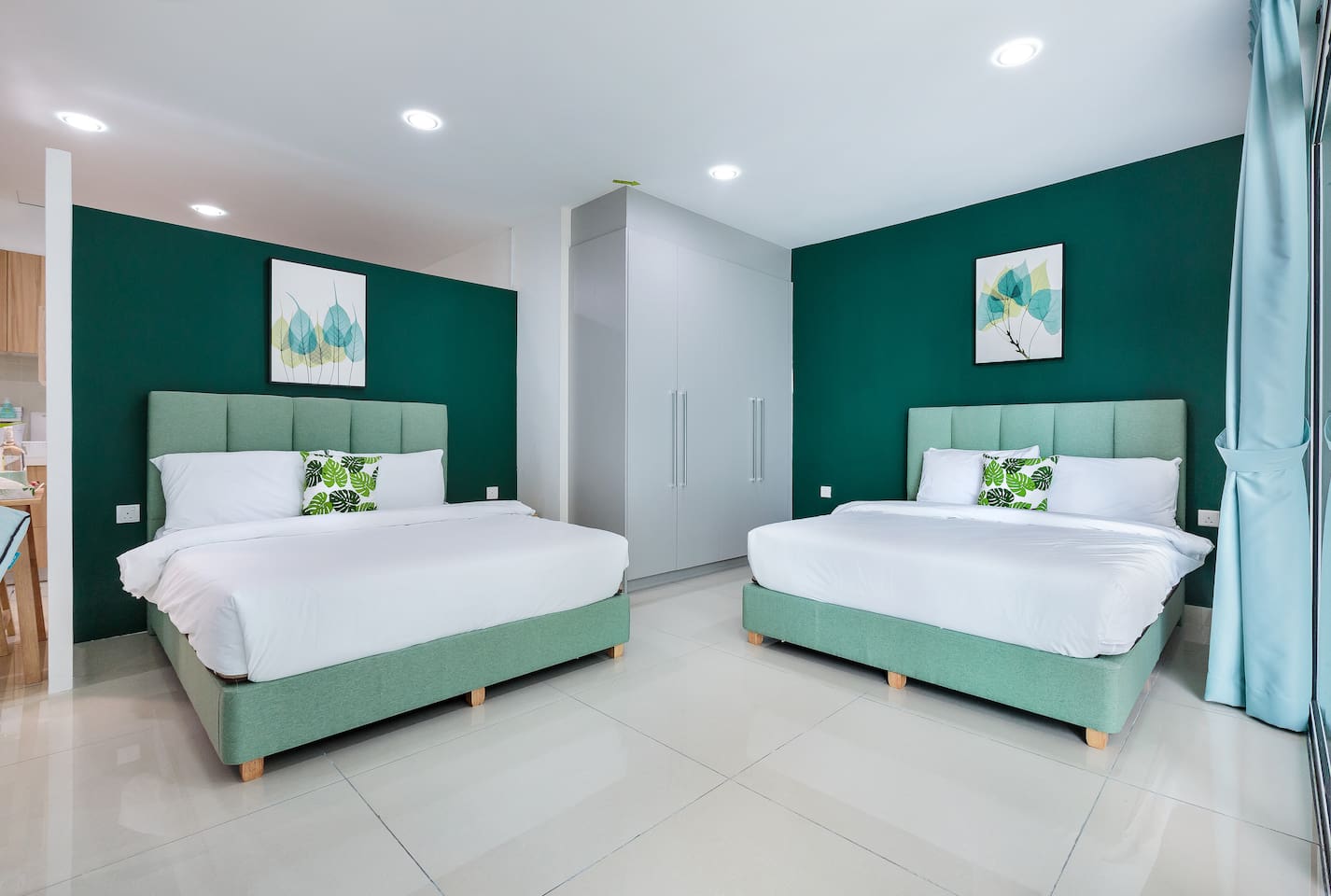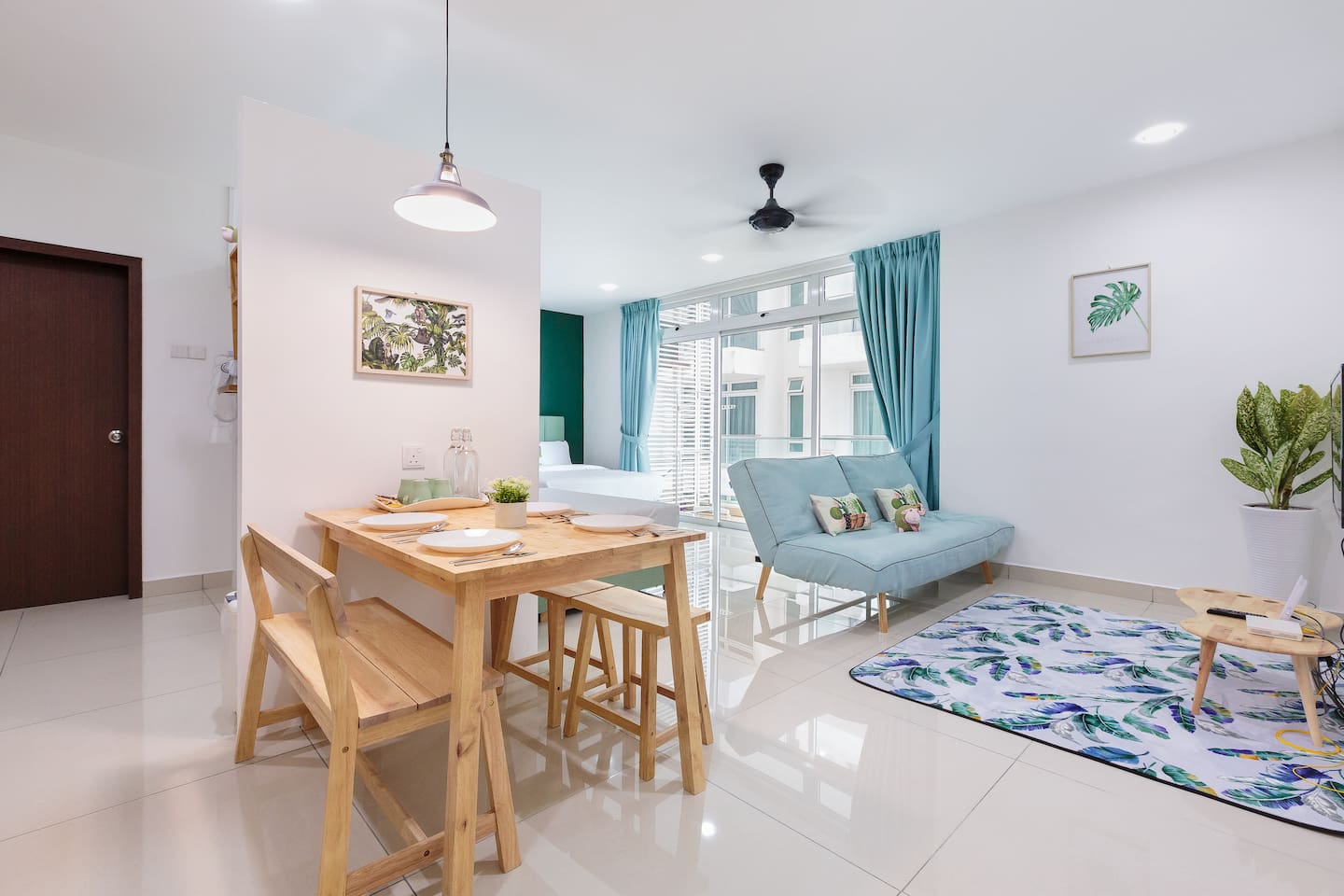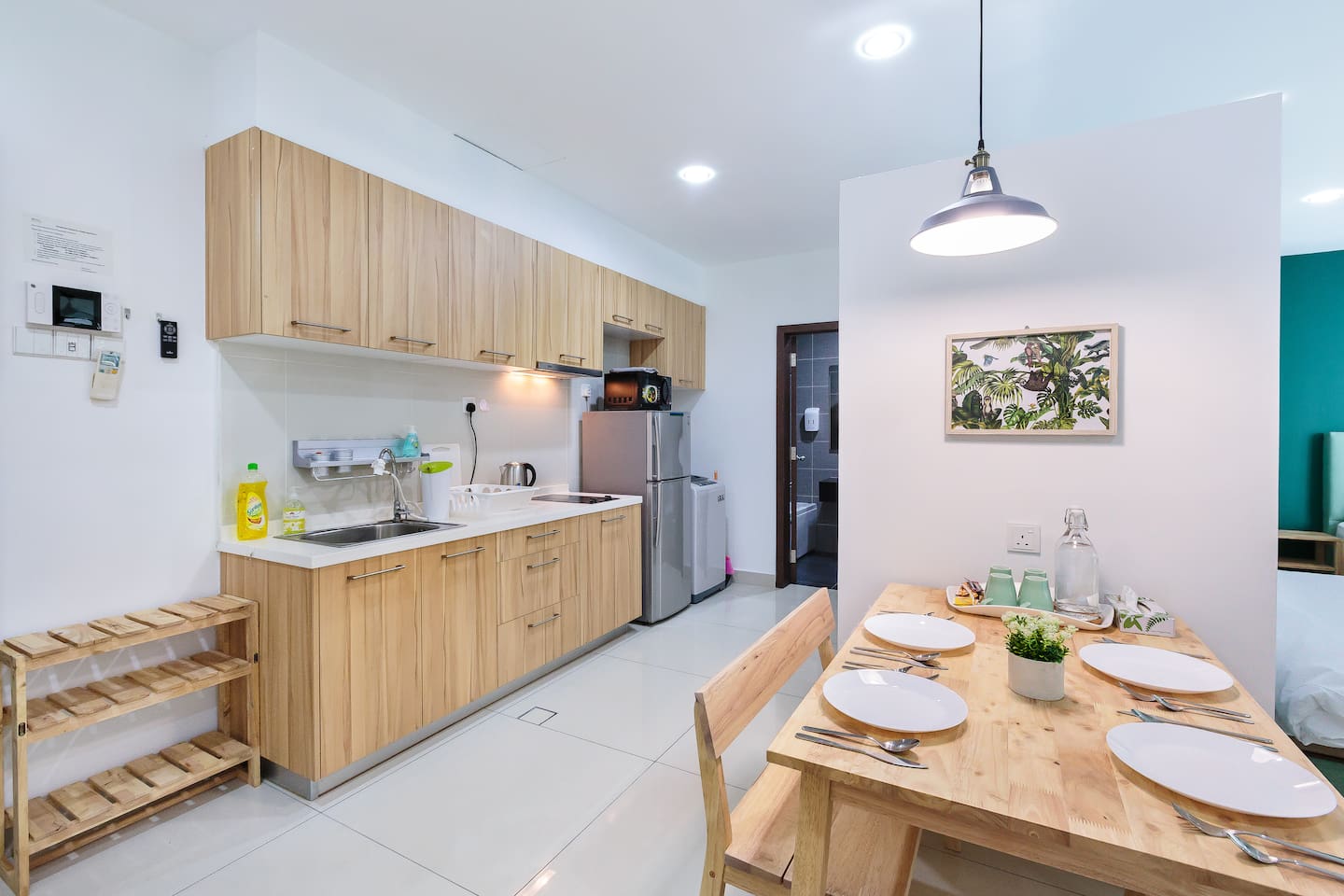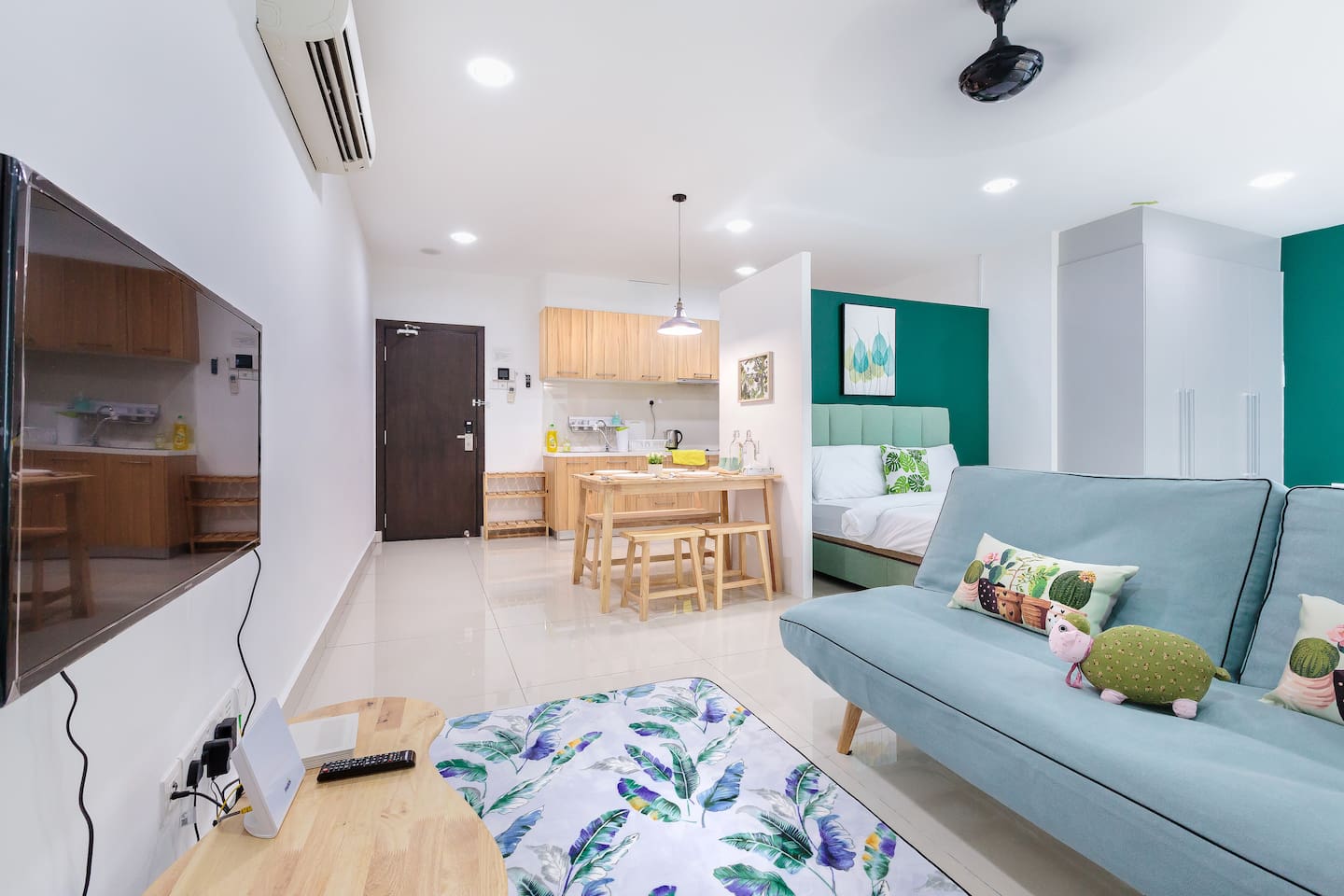 If you're looking for a spacious spot to stay in, this one is made for you. Hosted by a superhost, this rare find boasts facilities such as a swimming pool, sauna, and dinosaur water theme park! The open space room looks absolutely stunning with blue and green hues. The less than RM 200 studio apartment can accommodate five guests, with three beds and one bath.
Here's a review: "The place is clean and true to the pictures. More than enough space for 2 people. It is linked to KSL mall which makes it very convenient for us to head back once we are done shopping. Check in and check out process were also easy to follow. Sean is really prompt in replying as well. Thank you for the great hospitality Sean! Will definitely be back again." – Hazel, 2018. 
Check out the listing here.
3. This listing has several shopping malls nearby!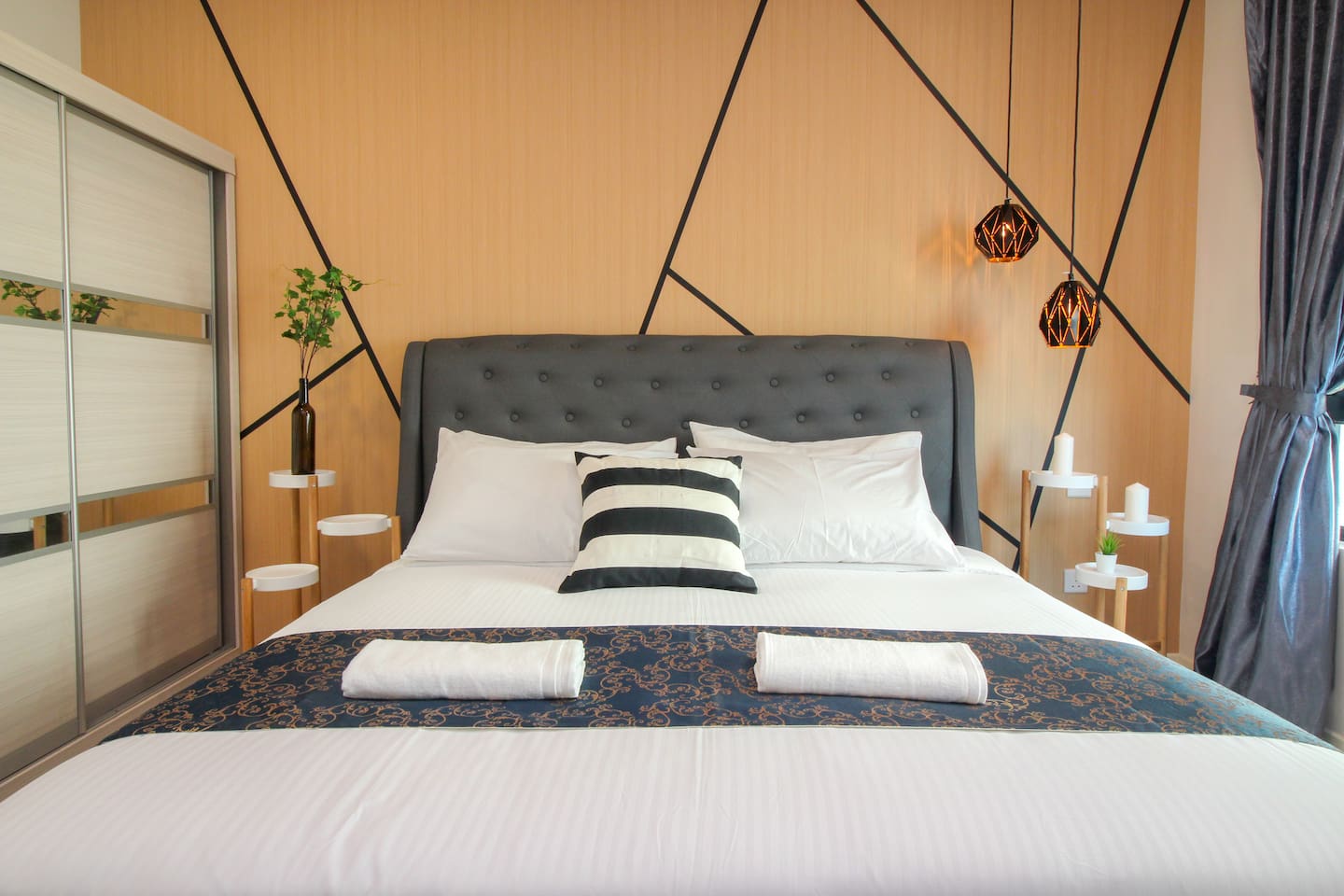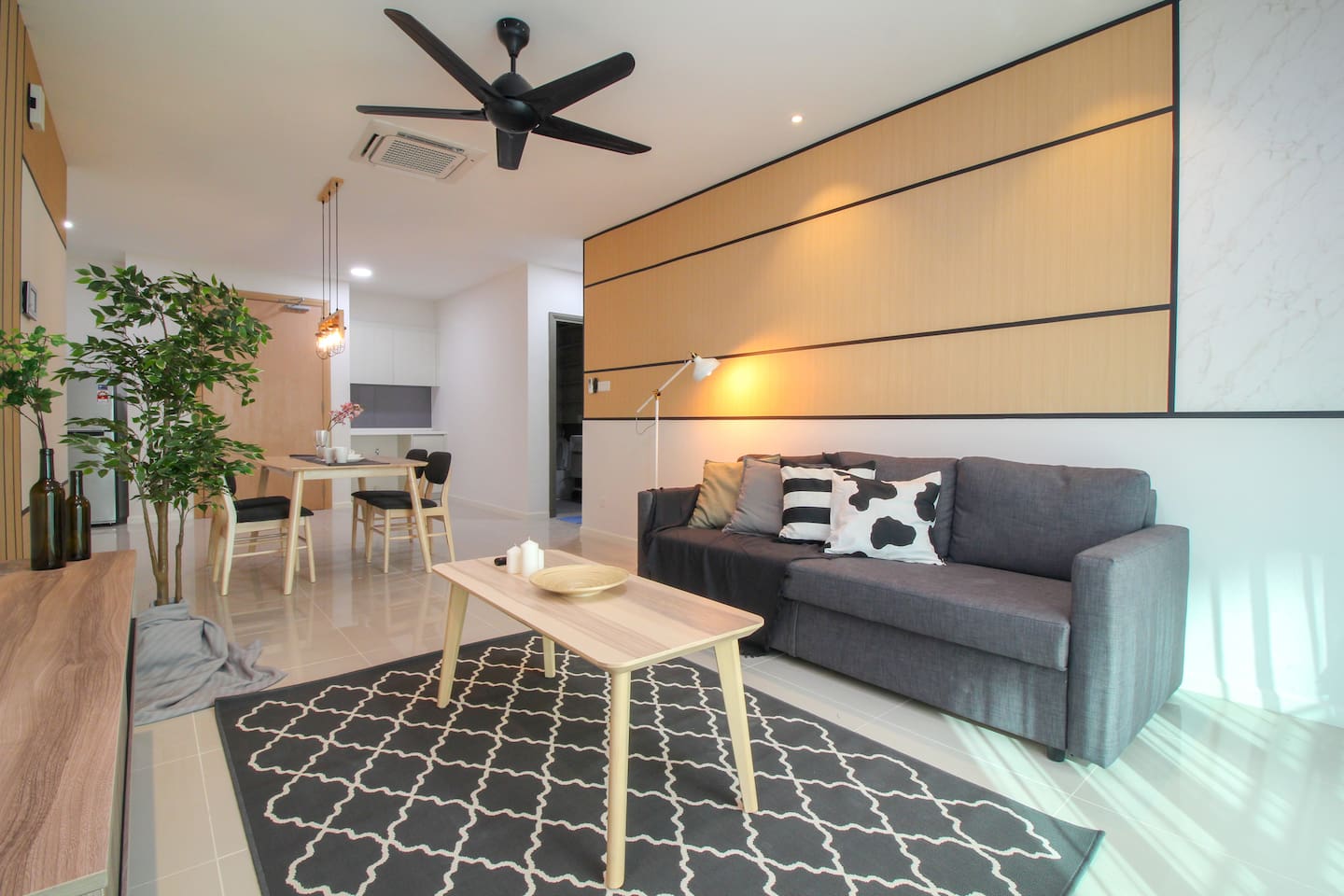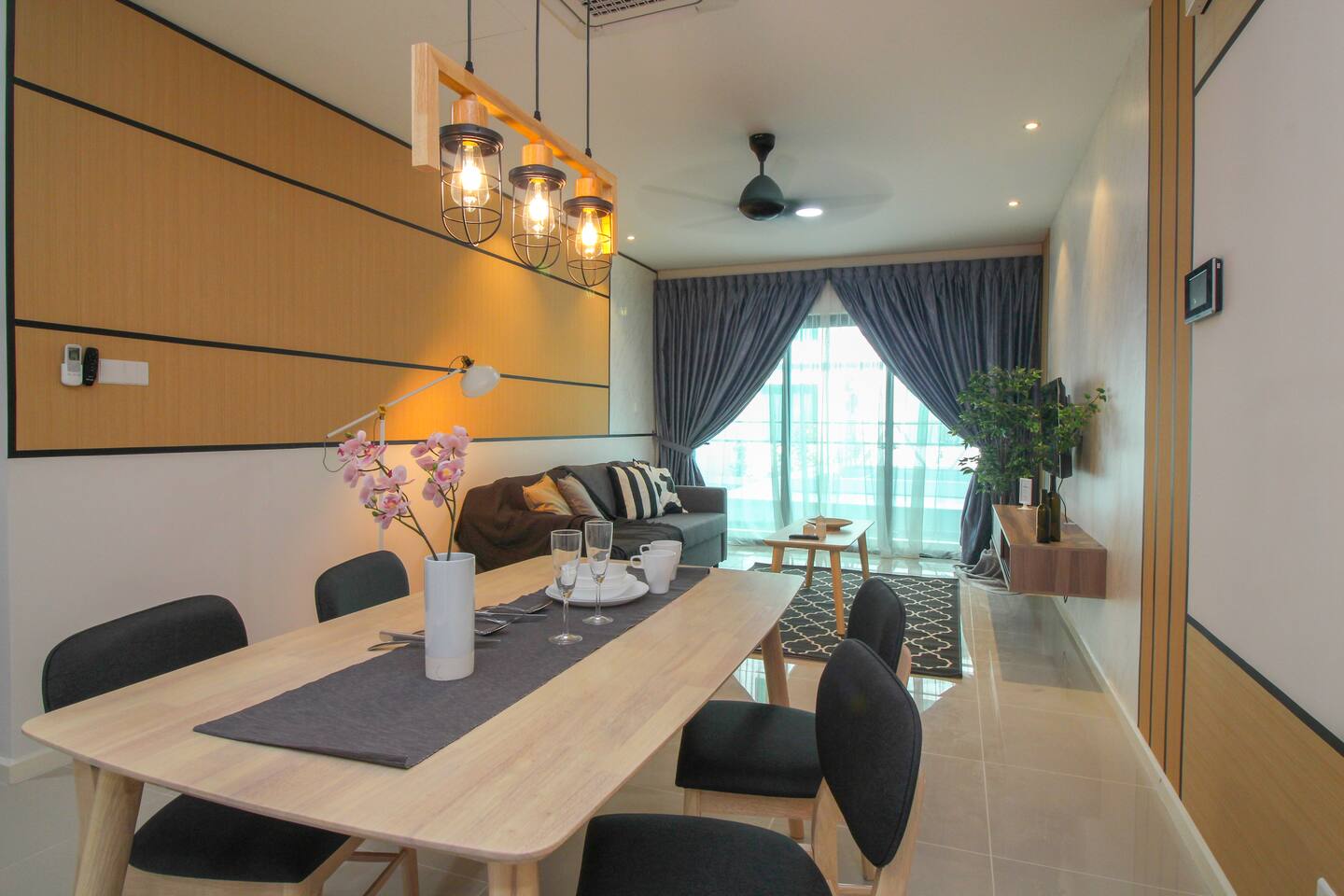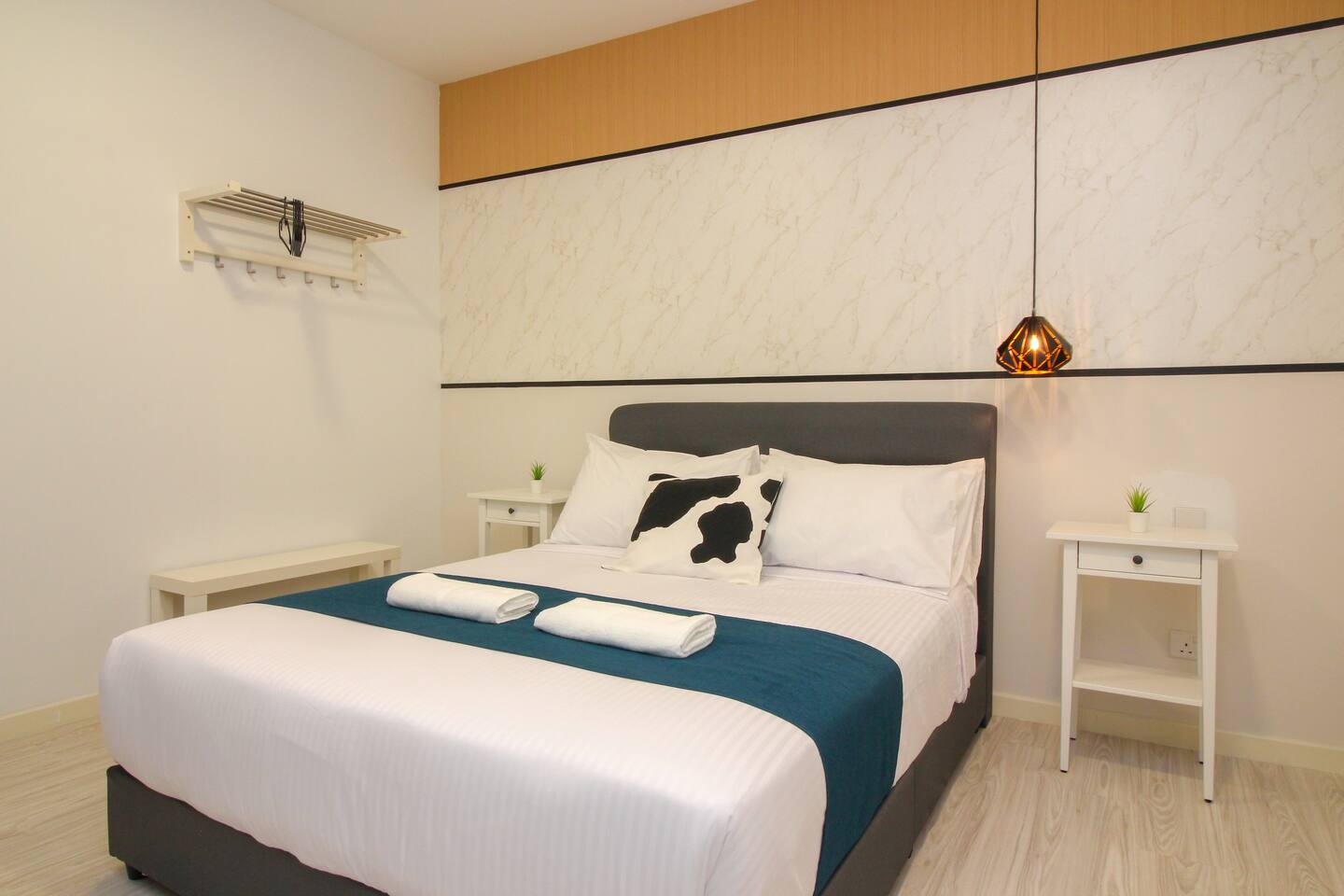 Dreaming of going for shopping free with your friends over the weekends? This listing is perfect as it is a few minutes away from City Square Shopping Mall, KSL City Mall and even Karat Night Market. The spacious living space looks like a great place for you to show off your shopping hauls! With a price tag of approximately RM300, this listing can accommodate six guests.
Here's a review: "The place is amazingly spacious and clean. The bed and pillow are comfy. Location is excellent. Exactly what you will get from the looks of the photo. My kids love their sofa bed." – Jiang,, 2019
Check out the listing here.
4. This listing has a very special bed spot!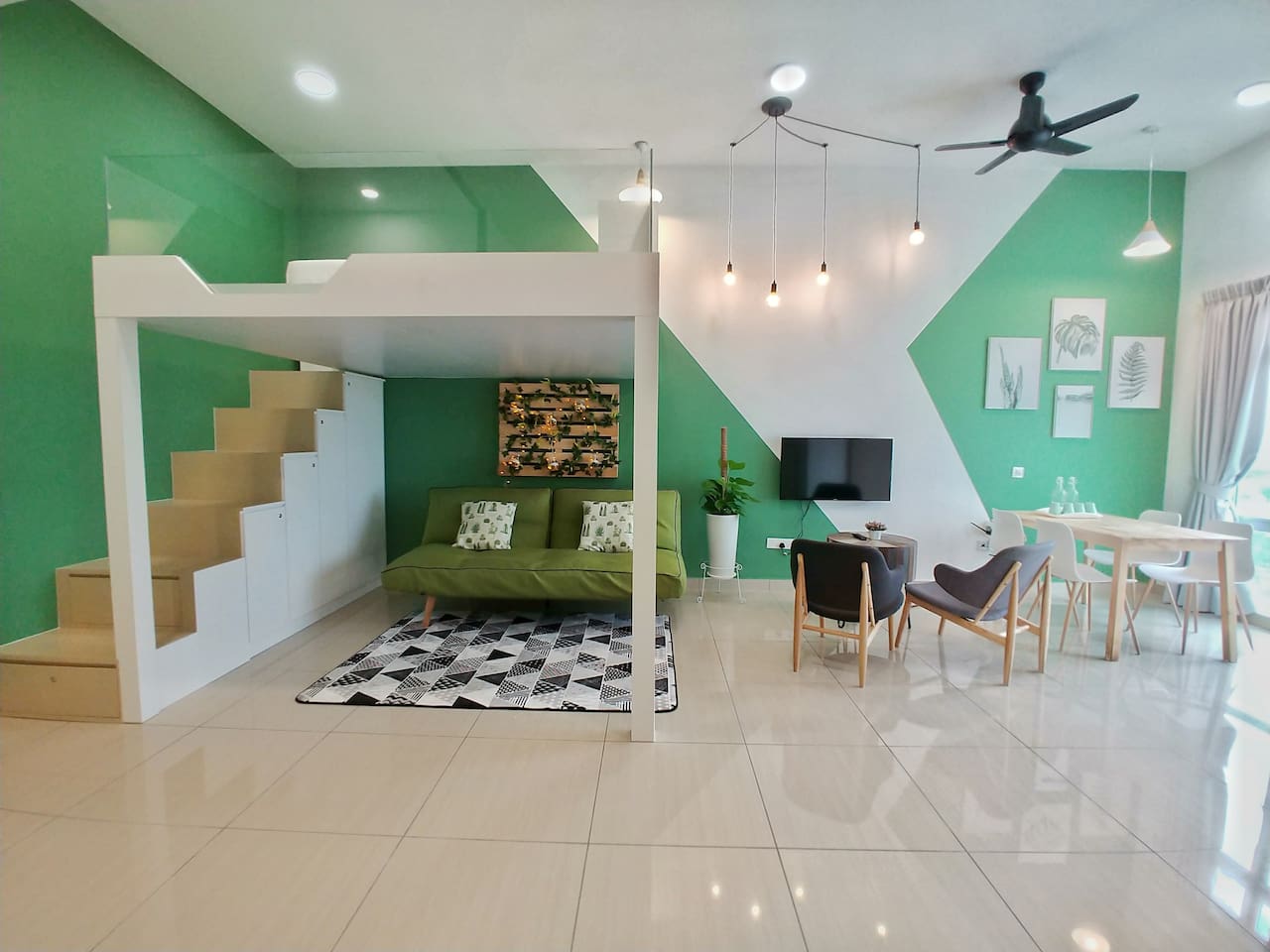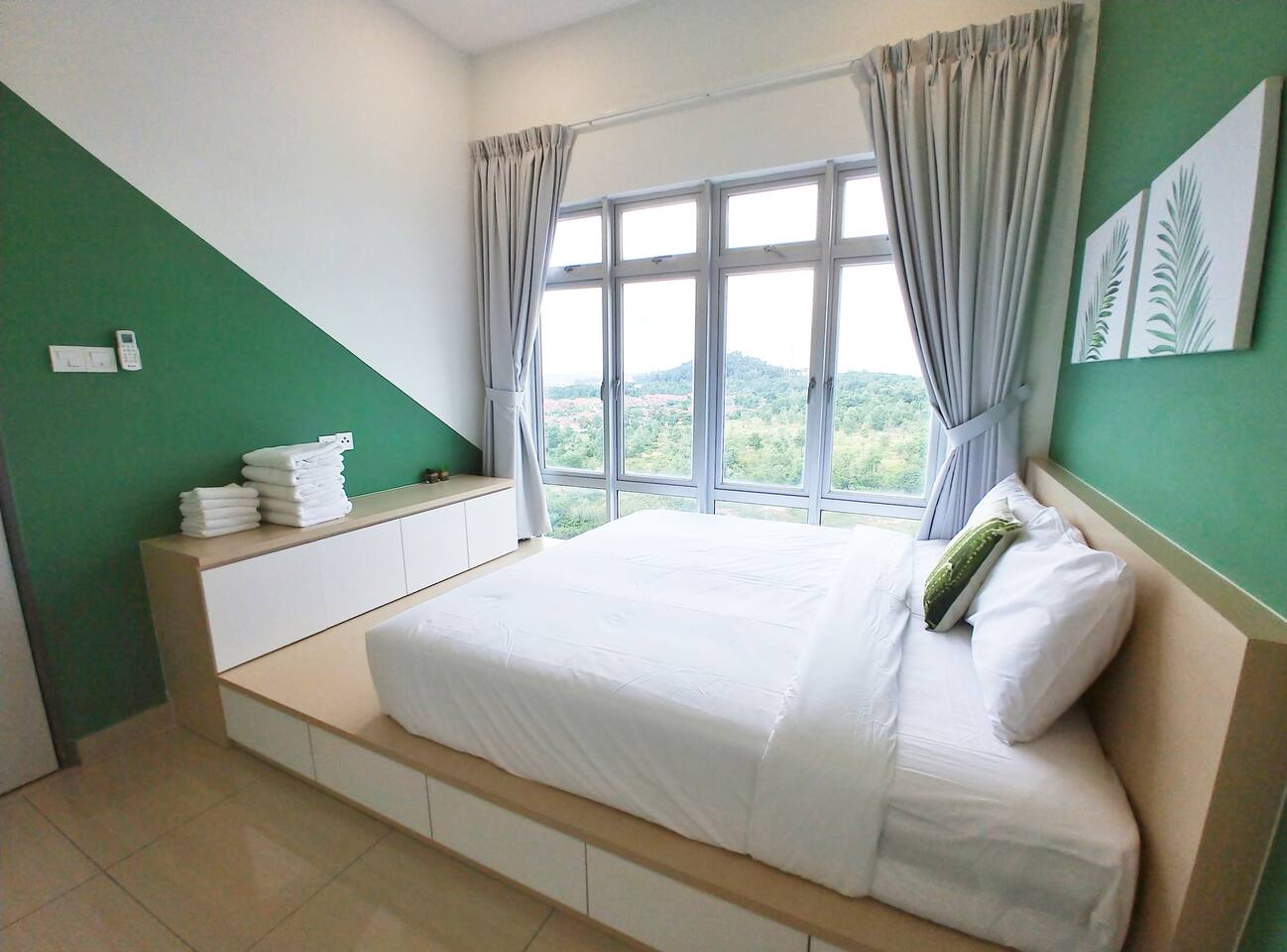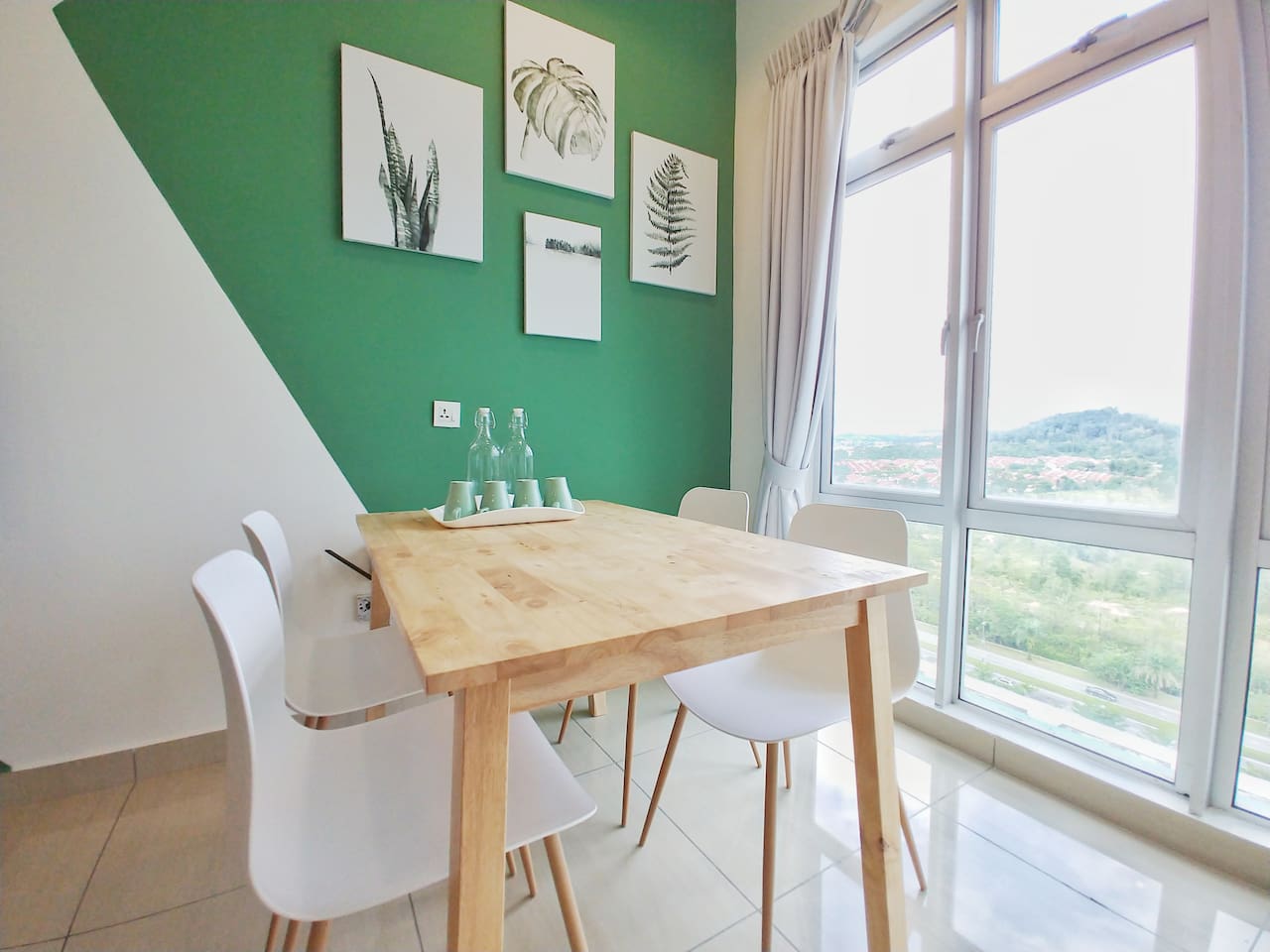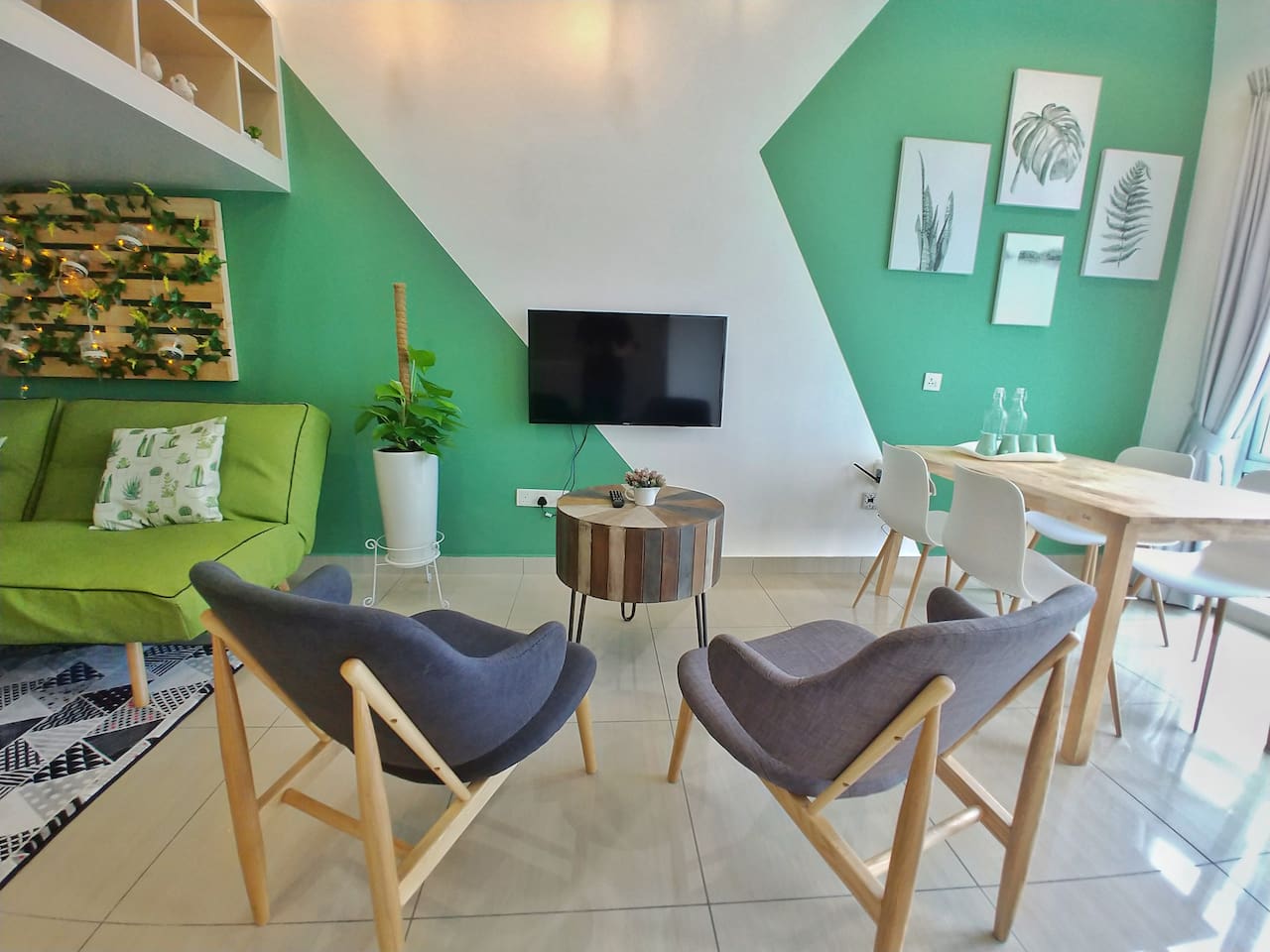 Here's another super fun listing. We are sure that you can see the unique selling point on the first photograph. If you have ever dreamed of having a double-decker bed as a child and your parents say no, this is the opportunity that you have been waiting for. This listing can accommodate five people, and it has three beds and one bath in total. Take us, please!
Here's a review: "Great location with many cafes / bar and especially a 24/7 Family Mart. House is clean and amenities are better than expected! (There was filtered water for drinking too!) Will definitely go back there for staycation / wouldn't mind going other listings from Midori!" – Aloysius, 2019. 
Check out the listing here.
5. This listing is nearby Singapore!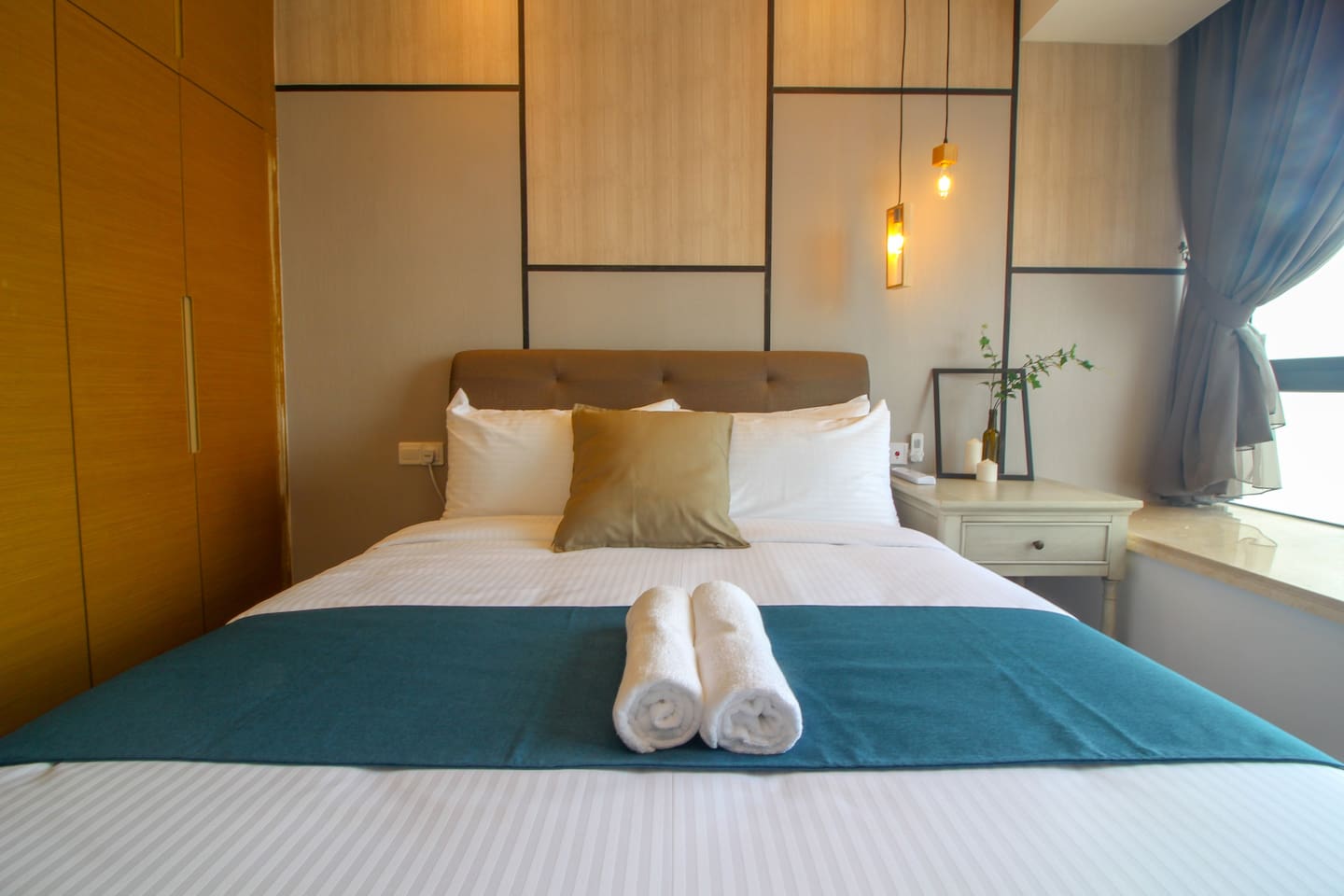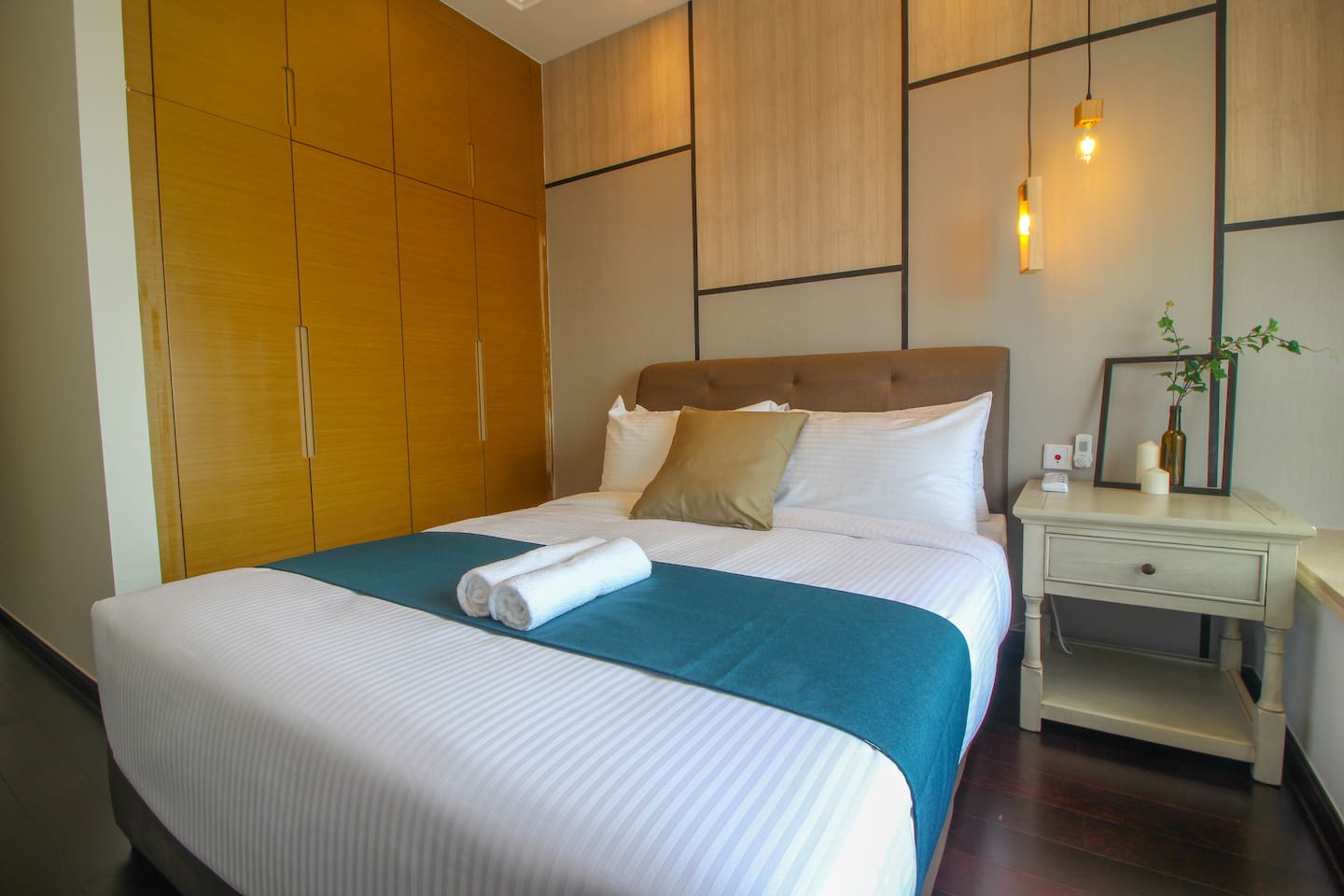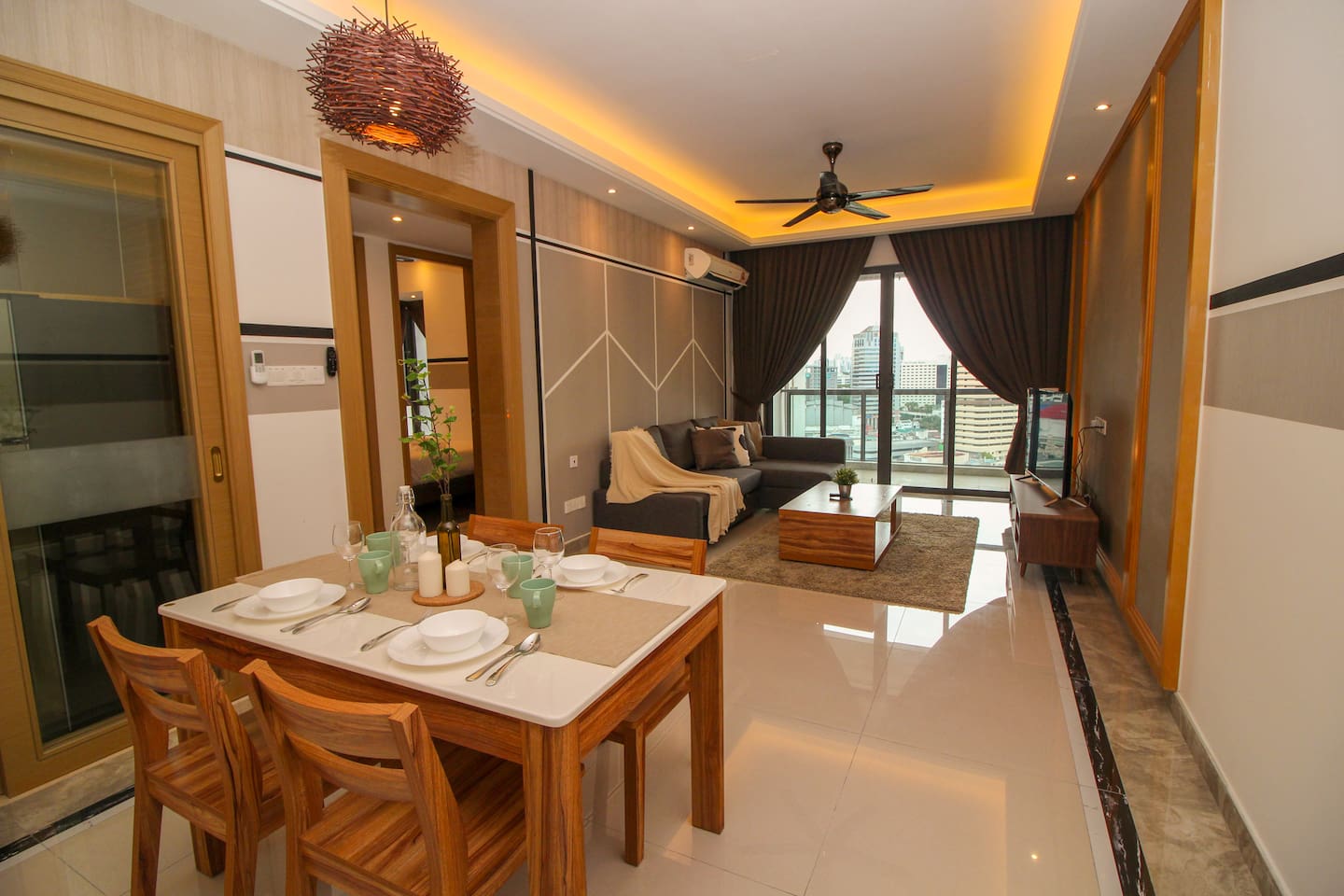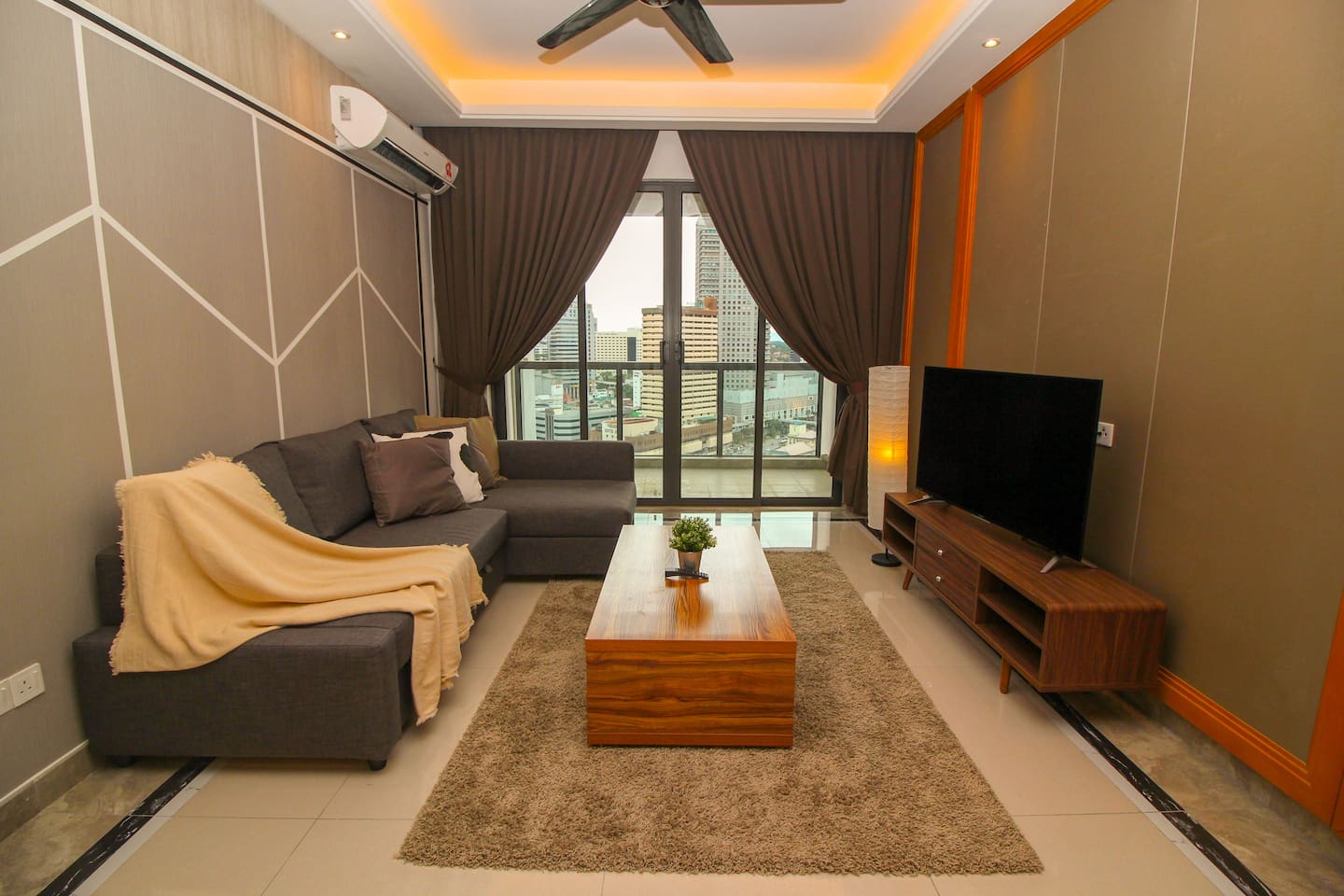 Looking for a trip to Singapore? Well, this listing is only three minutes away from the link to Singapore. And, it is probably half of the price staying in Singapore as it is less than RM 200. The facilities are pretty outstanding as well with a swimming pool, pool room, squash room, and even a playground! It is definitely a cosy spot to have fun with your friends over the weekend!
Here's a review: "The unit we stayed in is clean, functional and true to pictures. The host was fast to respond to queries and was always ready to provide any information needed. I'd definitely recommend staying with them." – Shelby, 2019. 
Check out the listing here.
6. This listing has an infinity pool on the seventh floor!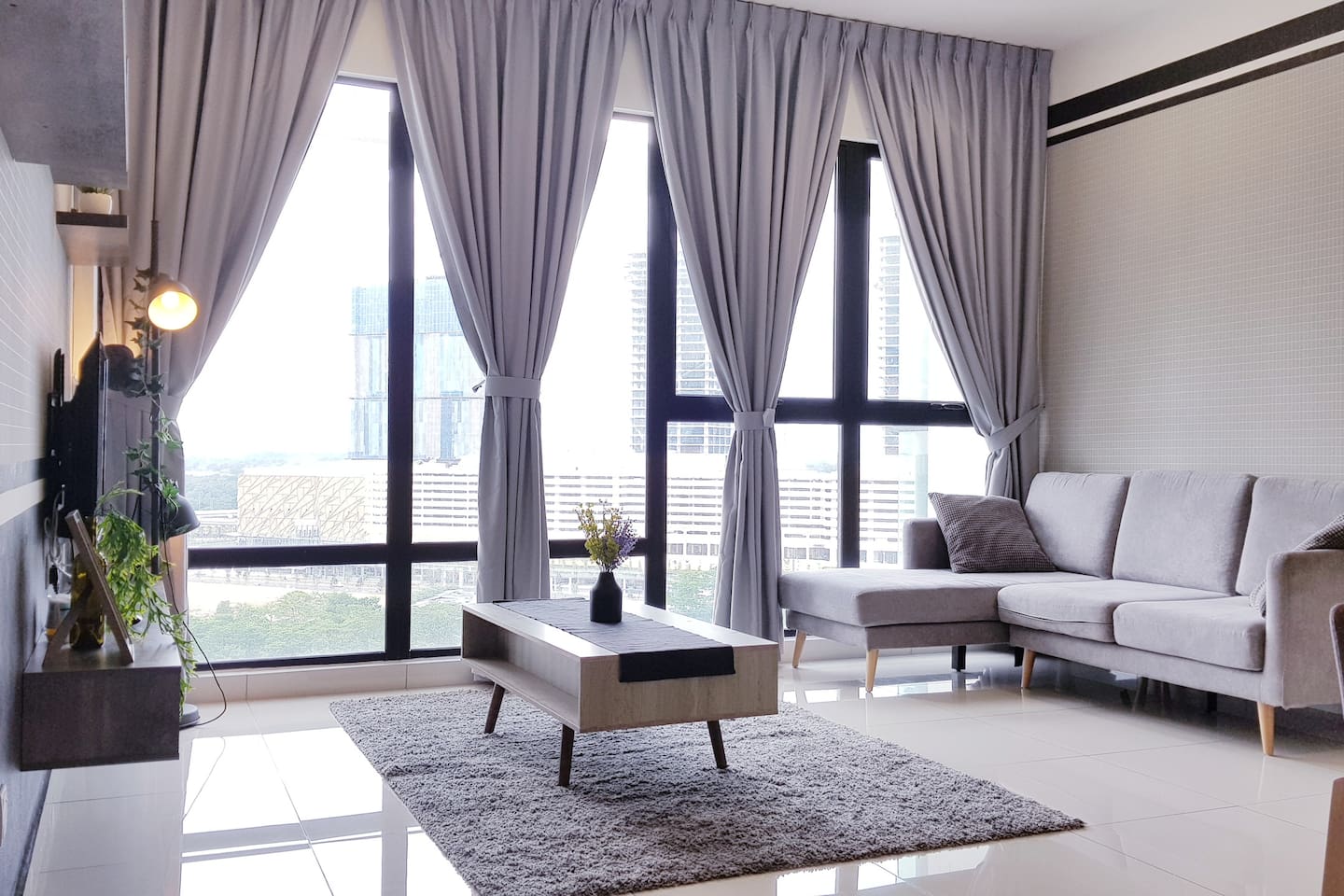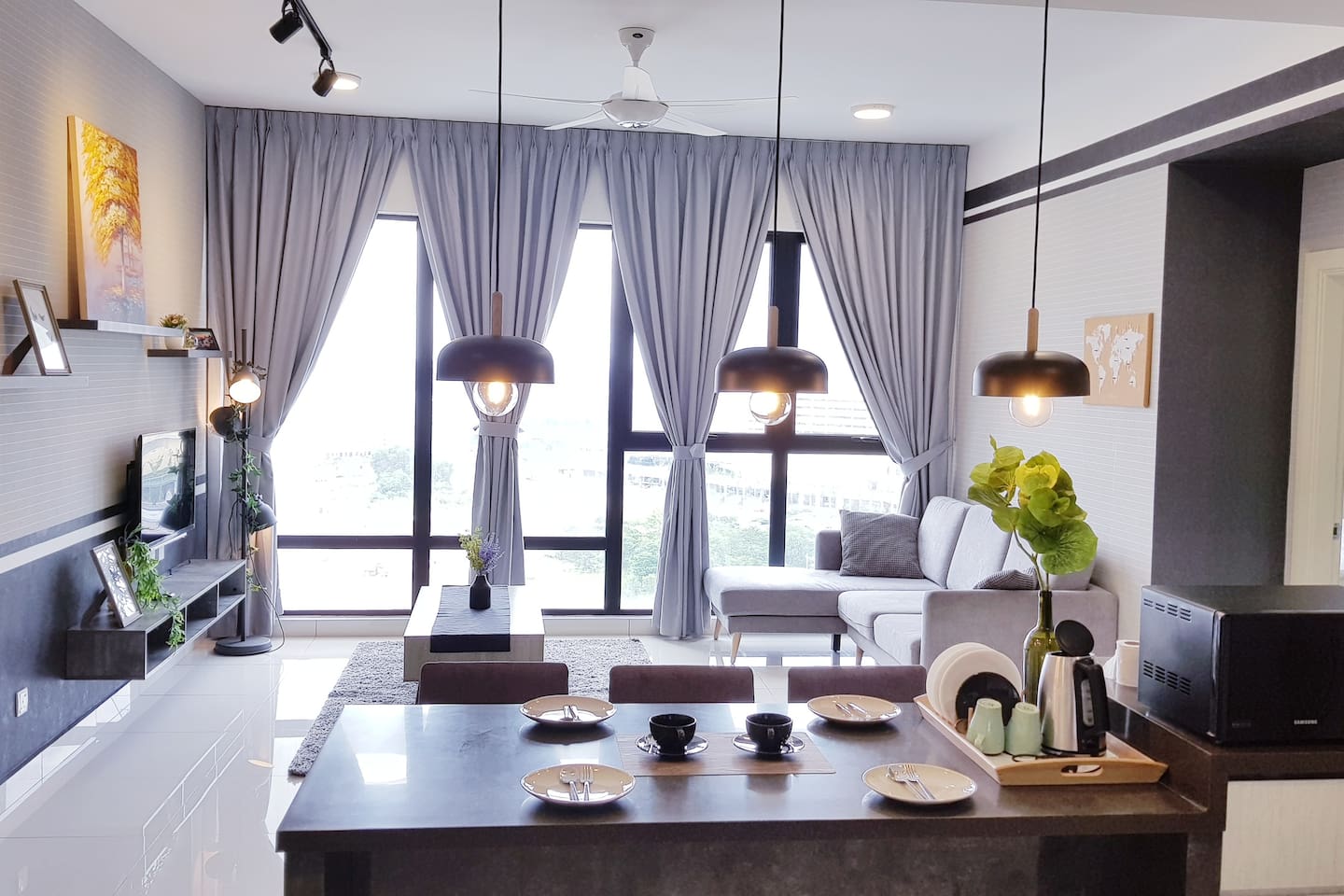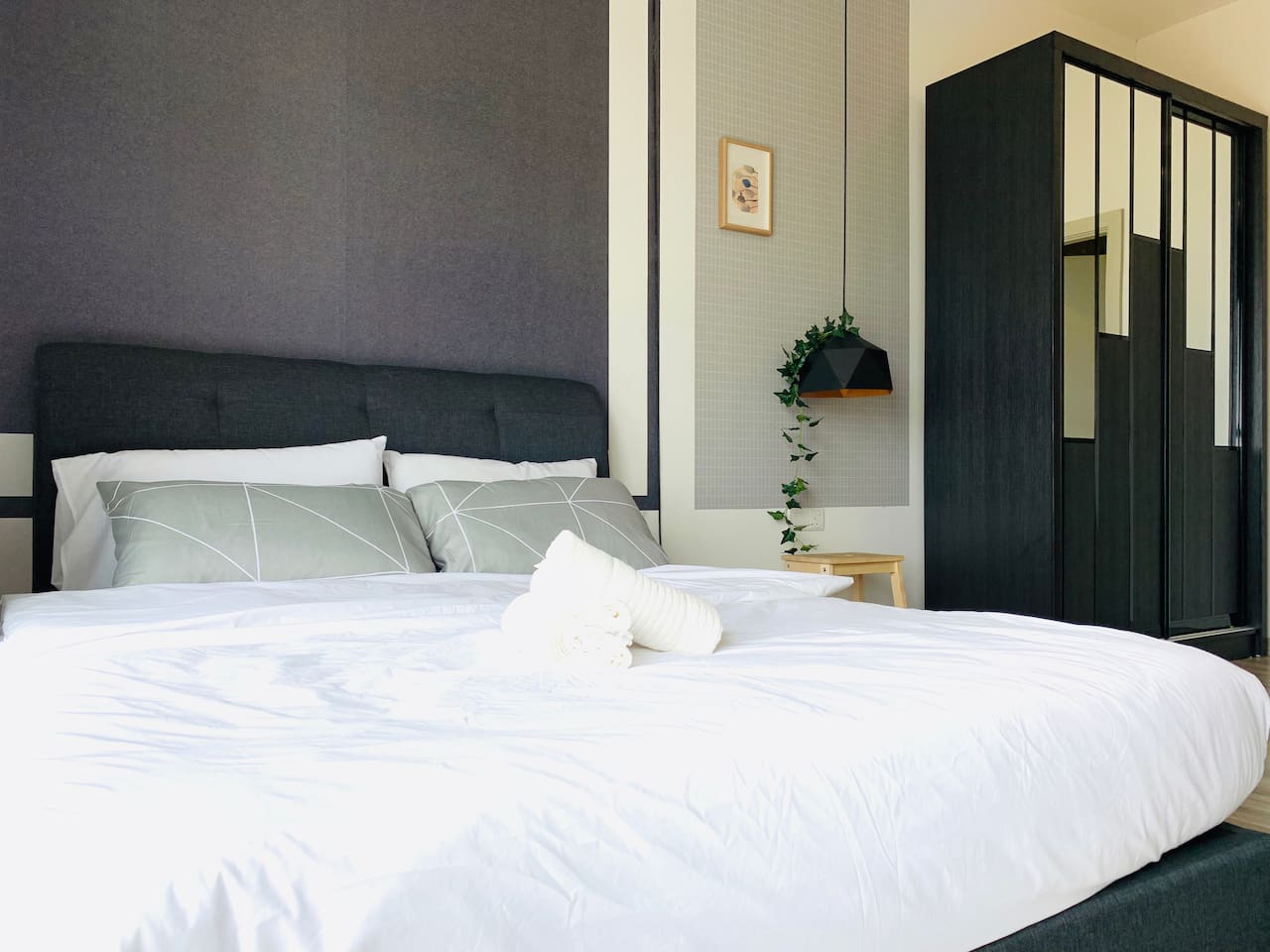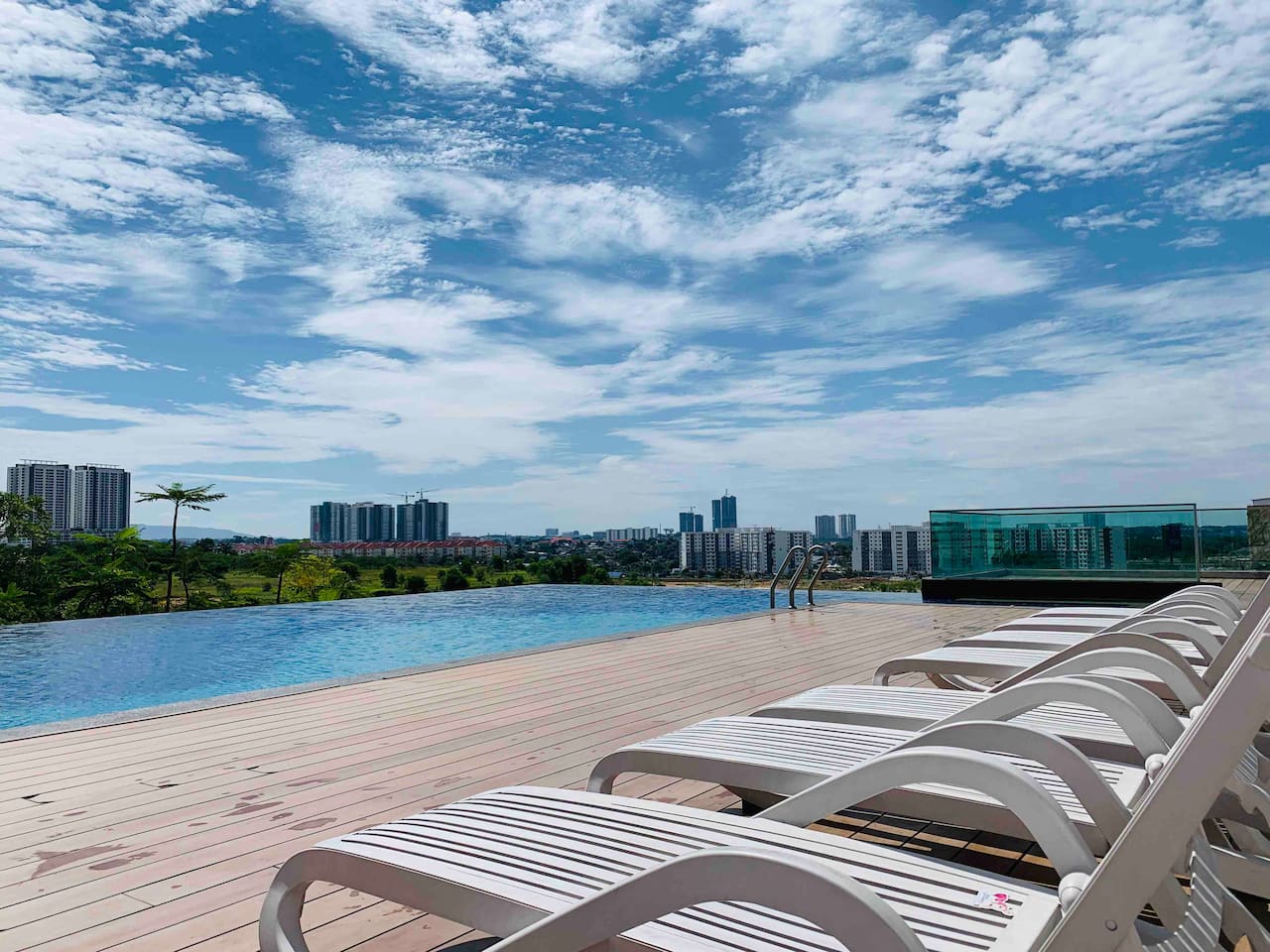 Sure, some of the listings have swimming pools. But, do they have an infinity pool with a stunning view of Johor? The apartment itself looks pretty rich with black and grey tones in every corner. We love the high ceiling curtains – so luxe! This listing can accomodate four people comfortable with three beds. Oh, did we mention it is pretty near some shopping malls as well?
Here's a review: "One of the best airbnbs I have been to. The apartment was well-furbished and accurate to pictures shown. Everything was clean, especially the bed linens.Would definitely book a stay here again!" – Wei Ling, 2019.
Check out the listing here.
7. This listing has Netflix, and is a smart home!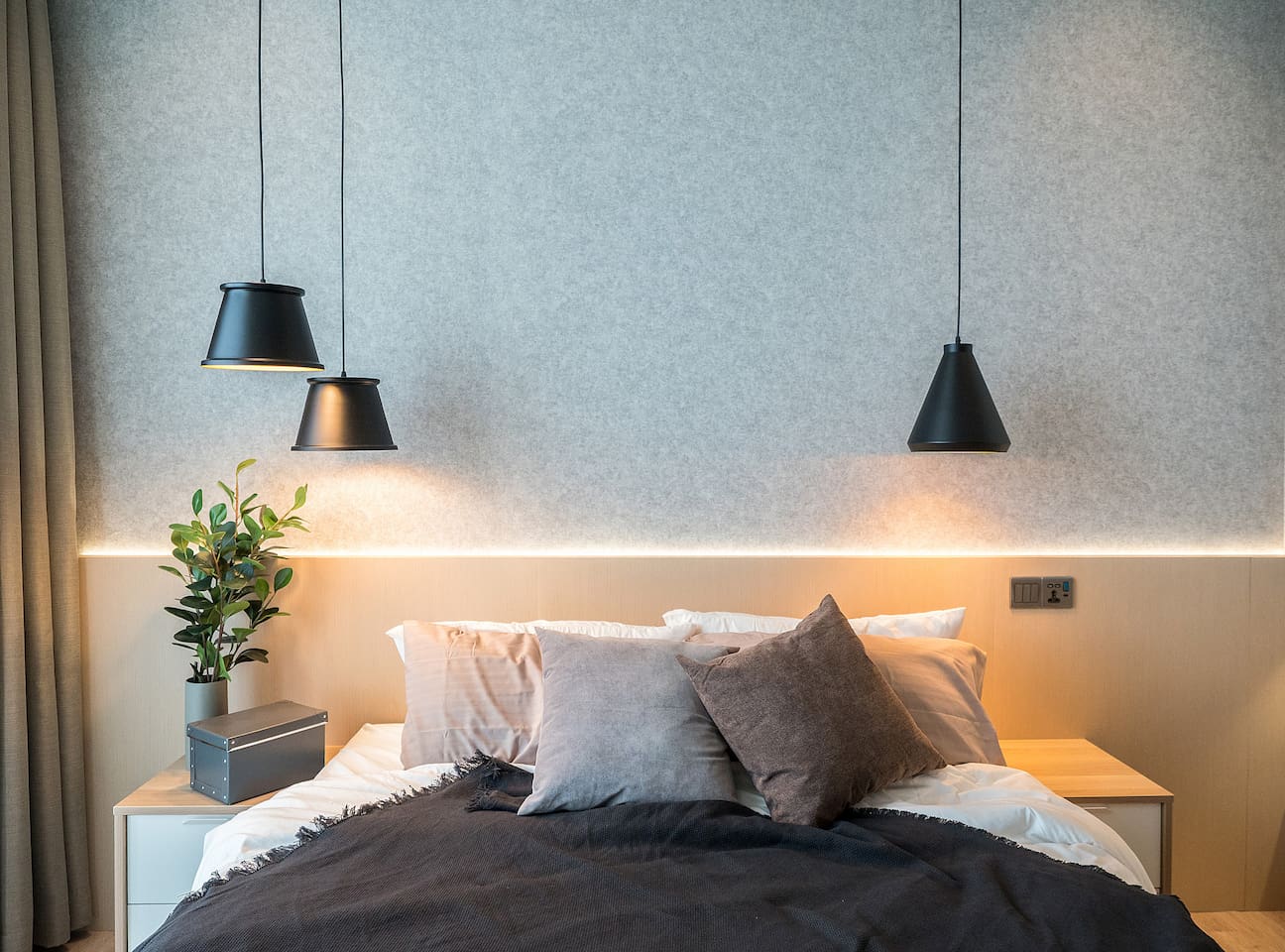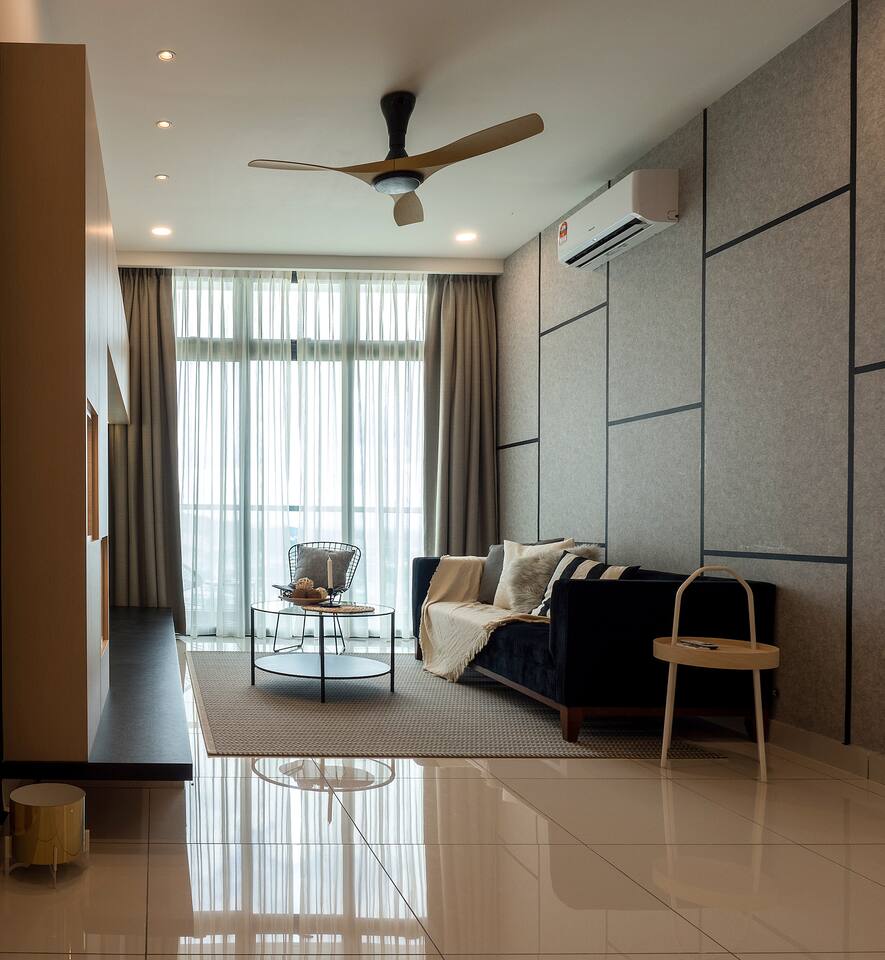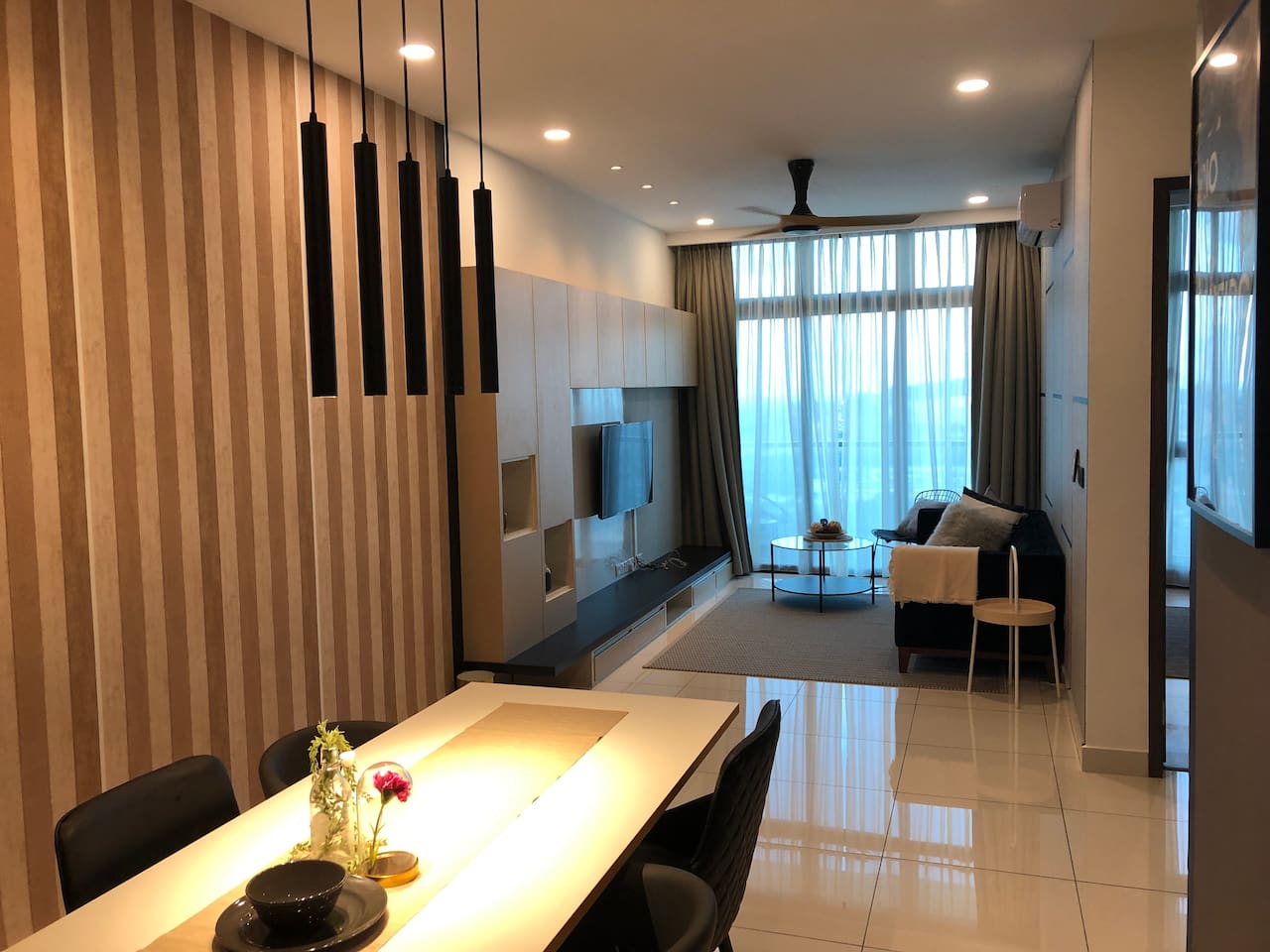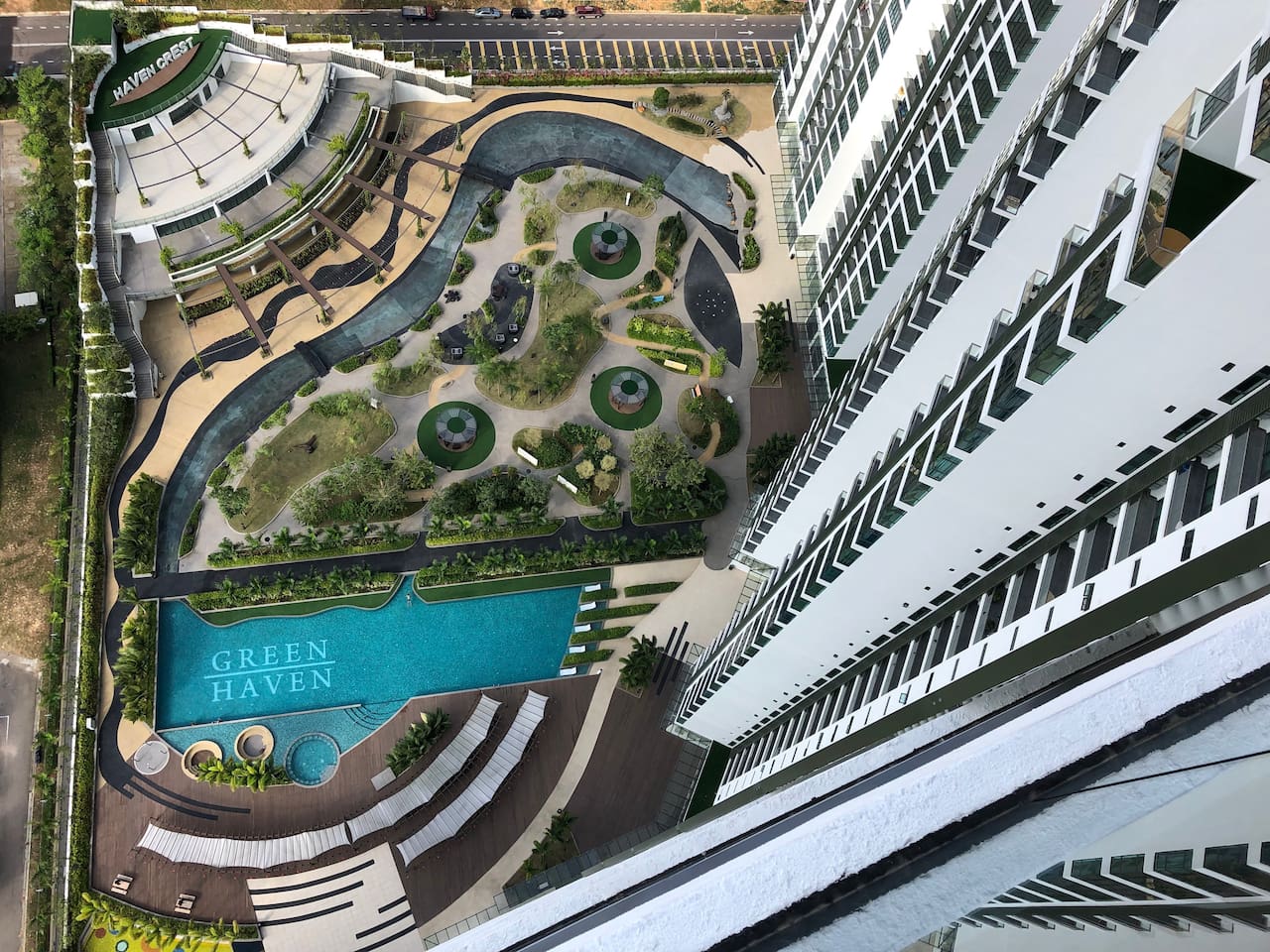 Here's another cosy spot, perfect for four friends over the weekends. Apart from watching all the Netflix television series and movies, you will also get to see a panoramic view of Johor as this listing is located on the 37th floor. Don't forget about the facilities that will be available too. It is definitely a good spot for a weekened getaway if you're looking to stay in all the time!
Here's a review here: "Amazing, clean and safe apartment with a great pool view. Check in was smooth and Luqman was kind enough to hand us the key himself. Will definitely come again whenever I'm back in JB" – Nik, 2019. 
Check out the listing here.
8. This listing will provide you peace of mind!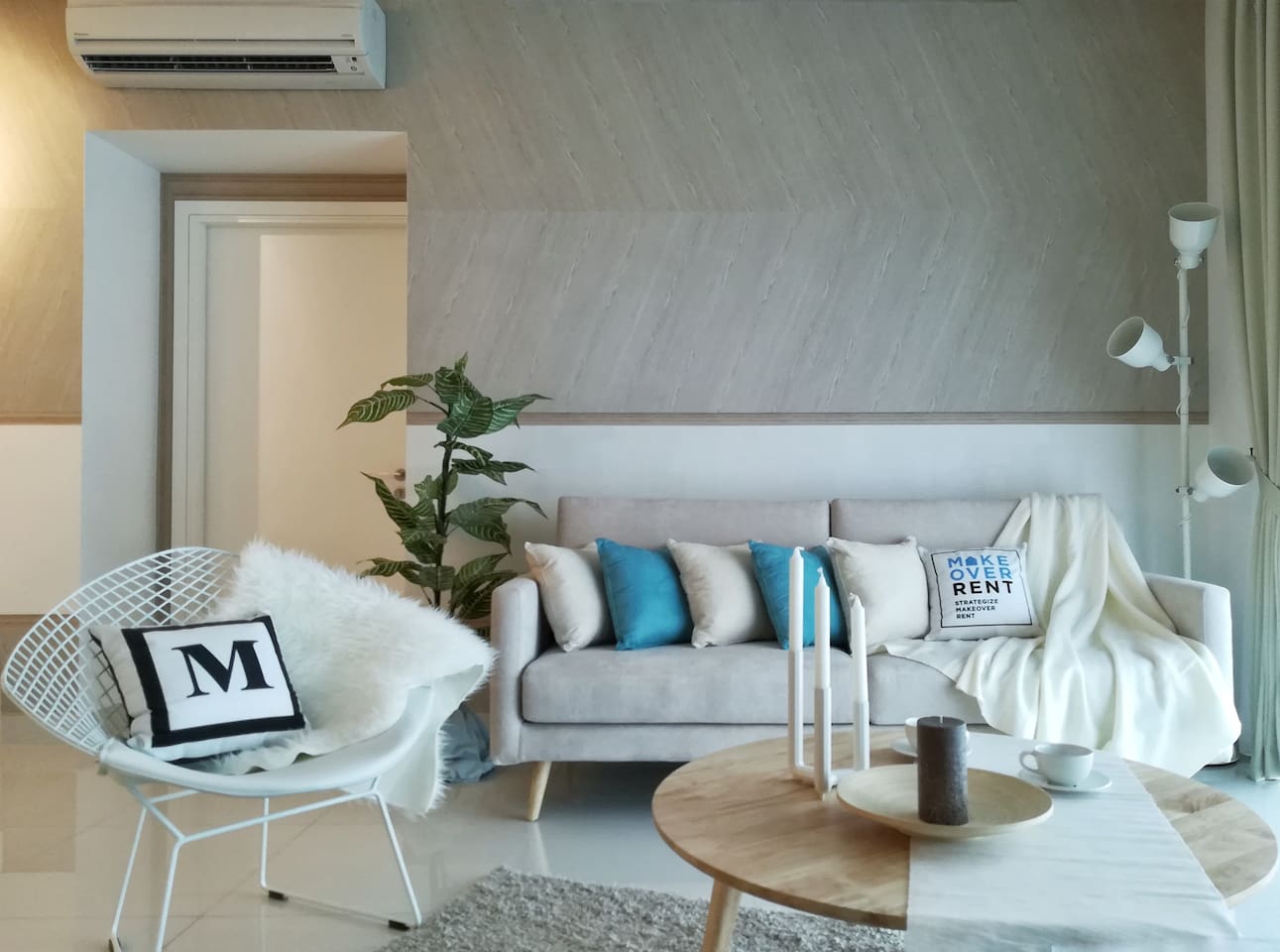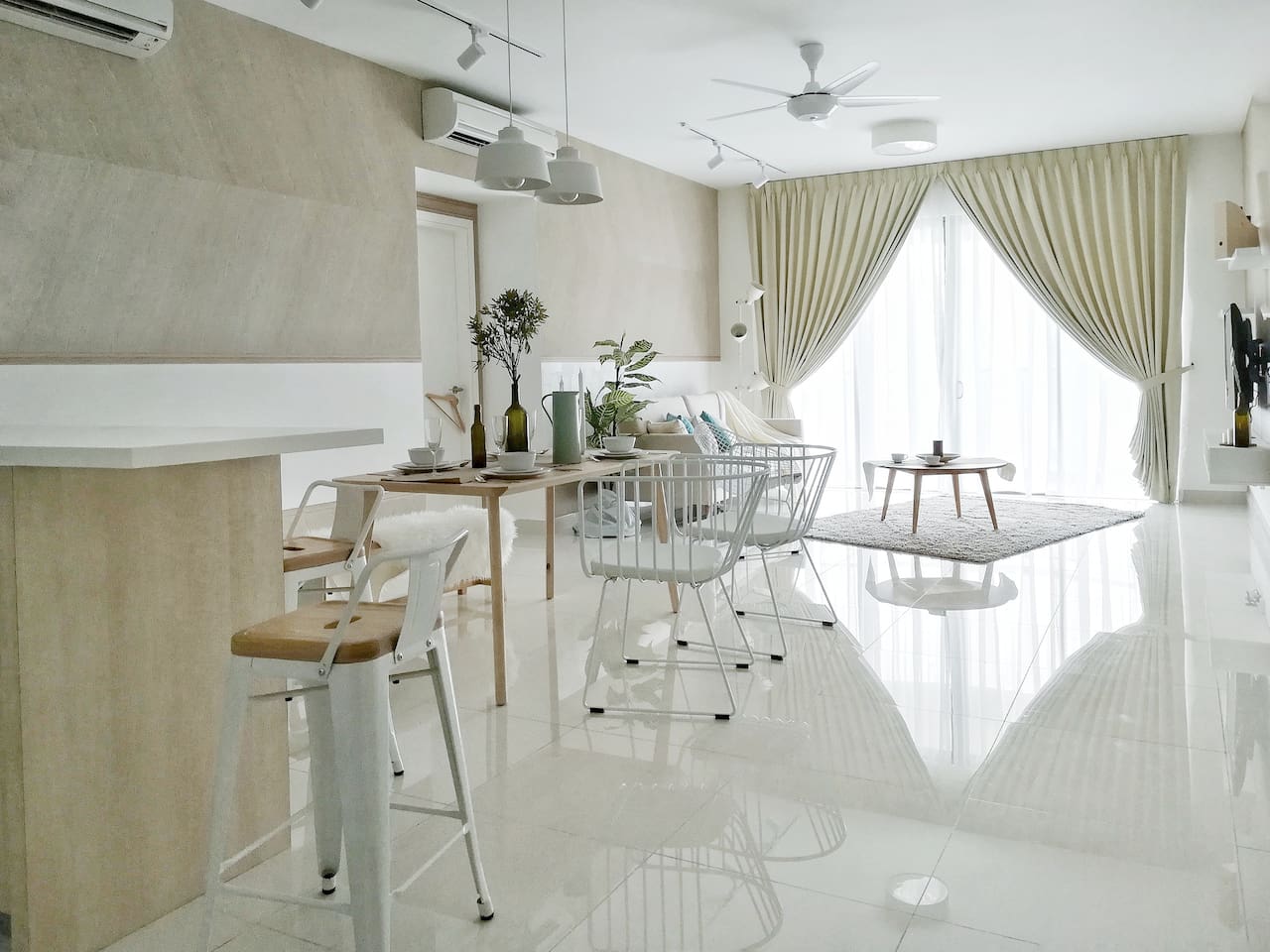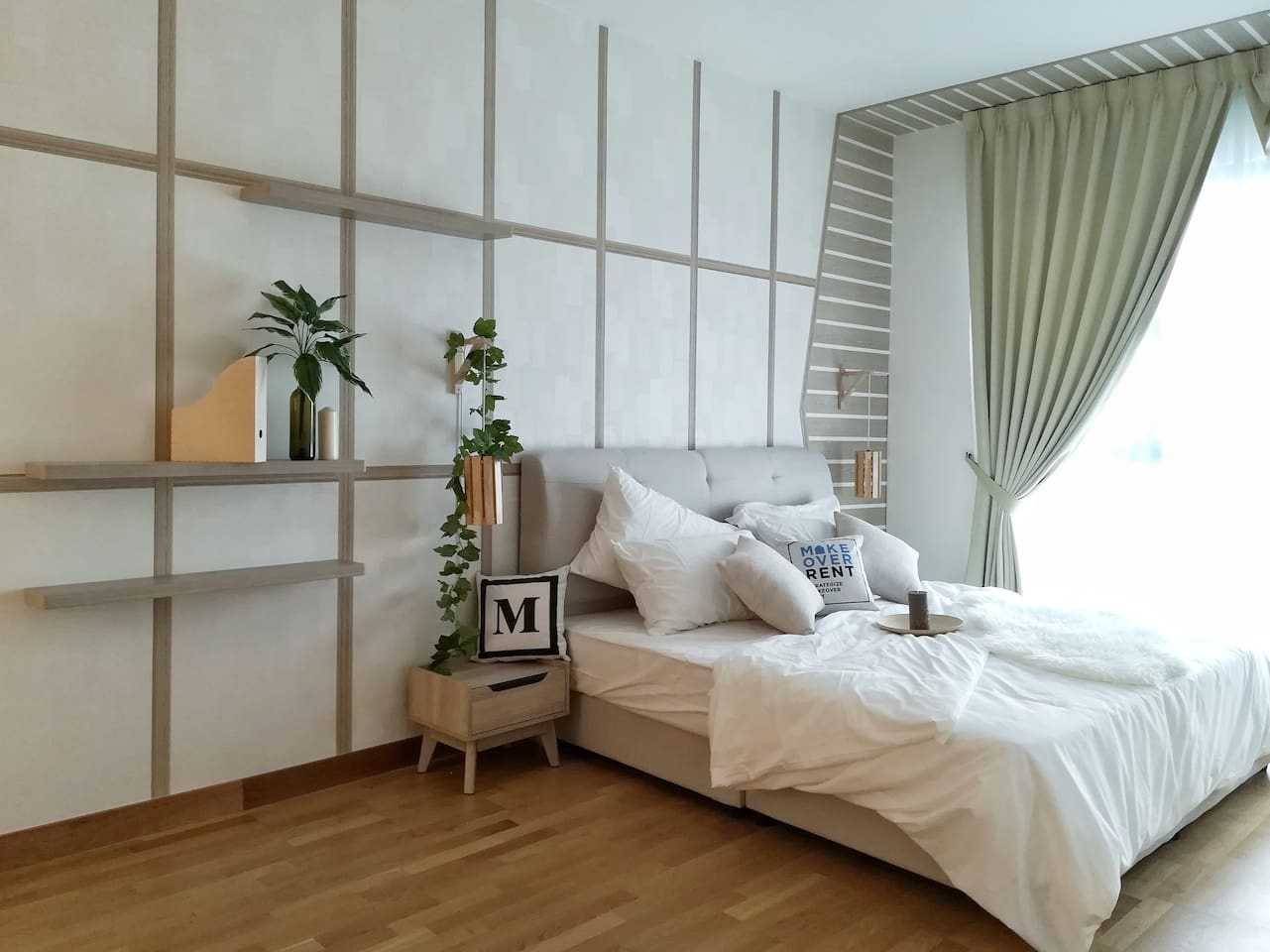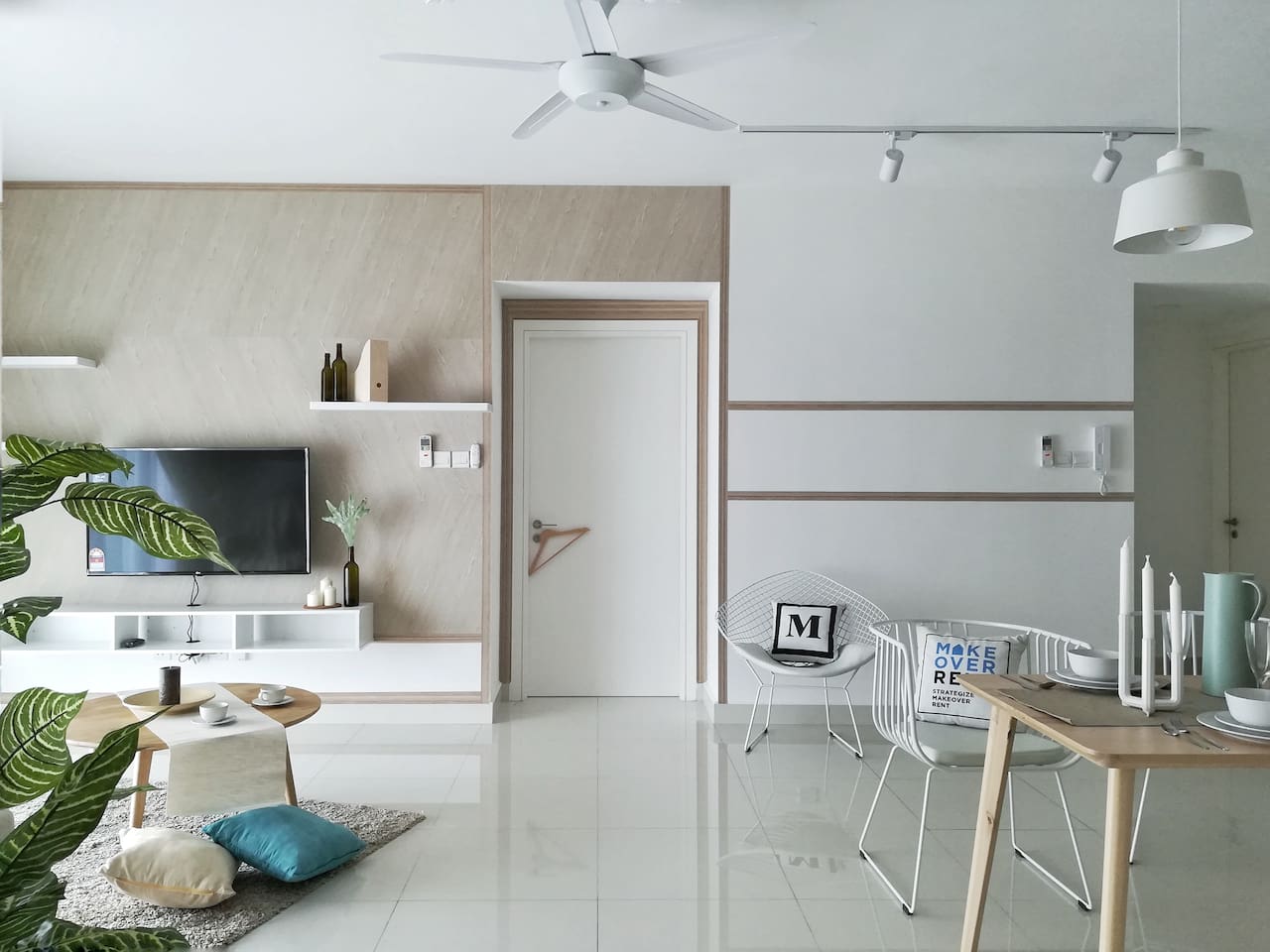 If you're planning to escape the bustling city, check this out. This listing is located at a developing area, so there's nothing much happening around it, yet. But, it is just a few minutes away from Paradigm Mall. Some guests noted that it has the perfect sunrise view, so wake up early to see it! This beautiful spot can accommodate up to five people per stay!
Here's a review: "The apartment is very clean. The unit is exactly the same as shown in the pictures. The view from the balcony is spectacular. Just around 300-400 m walk to Hello Kitty Land and Thomas Town and 600-700 m walk to Puteri Harbour Ferry Terminal (only served Batam Centre and Tanjung Balai Karimun I believe). Recommended for family." – Sucipto, 2019.

Check out the listing here.
Where are you going to stay?
There are so many good Airbnbs with different unique selling points, it is so hard to choose! Where do you think it the best spots for a perfect weekend getaway in Johor? Or, do you prefer to go to the islands that scattered around Johor?  Let us know in the comments. Also, check out Lata Seri Pulai, Johor Has A Massive Waterslide That's Perfect For A Vacay.